Beautiful Custom Frameless Shower Doors
Designed to Fit Any Shower Opening
The Original Frameless Shower Doors® specializes in all-glass enclosures that fit any shower door opening at an affordable price. Our experienced team has you covered from ordering to installation and everything in between.
Cut to precision, leaving no unsightly gaps or channels.
Made from the finest tempered glass available.
Sold directly to you, with no middleman.
Local, professional installation available in Upper Southeast Florida.
Get Your Free Frameless Shower Door Estimate!
Discover What One of our Elegant Glass Shower Doors Looks Like in your Home
One of our friendly and experienced team members will help you begin the process of ordering your custom shower door.
Once the door is made to your specifications, it is professionally installed by a highly-trained member of our installation team.
Call us at (954) 378-9792 or visit your nearest Frameless Shower Doors location to begin the ordering process.
The Frameless Shower Doors Process
We are the largest frameless shower door design and installation company, and we operate out of a state-of-the-art manufacturing facility using the highest quality glass and hardware at the lowest cost to you.


Designed
Call us or stop into your closest FSD location to have an elegant frameless shower door designed for your bathroom.


Manufactured
Your custom shower door will be manufactured at our state-of-the-art facility using only the highest-quality materials.


Installed
We'll bring your custom frameless shower door to you, and a team member will professionally install it to ensure the best fit.
We Know Shower Doors
For over 30 years, we've designed, manufactured, installed, or shipped shower enclosures for homeowners and contractors.
Discover the Frameless Shower Door Difference™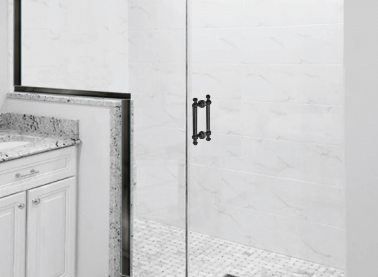 Outdated Semi Frameless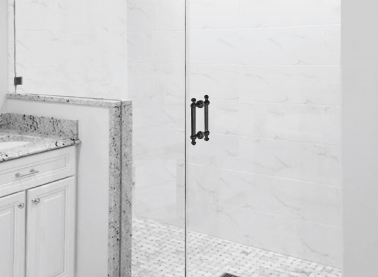 The Frameless Difference™
At Frameless Shower Doors, there are no bulky frames or unsightly U-channels on any of our designs. It's time to see for yourself how the Frameless Difference™ transforms the look of your bathroom.
Customer Testimonials
See what our Customers are Saying about our Frameless Shower Doors!
We built a large custom shower in which we needed a huge 4-piece shower door. The shower door we got from The Original Frameless Shower Doors was 1/2 the price and amazing! We got all the help we needed with measurements and installation and could not be happier!
The prices were far better than any place else we looked, and the quality is great!
I was referred by a neighbor to have a new frameless shower door installed after remodeling my bathroom. I looked at several options but chose to go with her recommendation as I wanted to support local small businesses.
The shower door is amazing and they offered support nearly two years after the job was complete. If you want top-notch service and quality, then this is the company to choose!
The Brand that Started it All™

Our state-of-the-art manufacturing facility is equipped with the latest glass fabrication machinery; all designed to provide you with a one of a kind custom frameless shower door that fits perfectly to your finished opening.
Local and Professional Installation Available to the Upper Southeast Florida Area
We are the largest frameless shower door design and installation company, operating out of our state-of-the-art manufacturing facility here in Florida where we use only the highest quality glass and hardware at the lowest cost to you.
Since we are local to the area, we're proud to also offer our professional installation services, available to most of Upper Southeast Florida, allowing us to get your frameless shower door manufactured locally and installed in as little as 5 days.
Contact us today about a free in-home estimate, we're ready to help!