Buying Guide
How to Buy a Custom Glass Shower Door?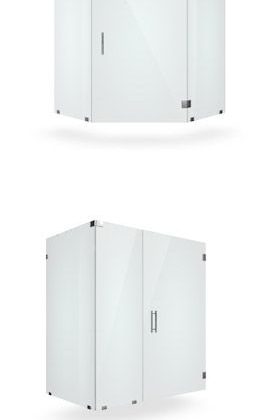 Choosing Your Design
Just like a tailored suit or dress, every frameless shower door and enclosure must be custom cut to it's own unique size and fit. "Standard" glass sizes do not exist in the world of frameless shower doors.
Furthermore, every tiled wall in a shower or tub enclosure is different. Some walls lean out at the top, and some on the bottom.These same unique traits also apply to the curb, sill, and tub deck in which your glass rests on. That being the case, we will always recommend against buying or attempting to install a "pre-fabricated" frameless square cut door or enclosure.
"Pre-fabricated" basically means that the glass has not been custom cut to conform to your walls unique characteristics. Much like trying to fit a square peg in a round hole, we can almost guarantee that you will be left frustrated and greatly disappointed.
On this site you will find over 100 of todays most common frameless shower door configurations. If you do not see a frameless shower door that looks like yours anywhere on this site, simply take a picture of your shower opening and send it to us. Our highly trained in-house design team will promptly send you over a suggested layout that we feel you'll be most happy with. We can also include a diagram of your custom shower enclosure opening, as well as instruct you on how to measure it perfectly and install it. No bait and switch. No middlemen. No gimmicks. Just the finest custom American made frameless shower doors and enclosures, direct from us—the manufacturer.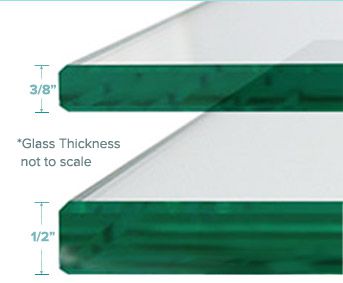 Frameless Glass Thickness Options:
We utilize only 3/8" and 1/2" glass for all of our frameless shower doors and enclosures. Anything thinner is unsafe, and flimsy in our opinion.
Depending on the texture, some of our glass options only come in 3/8". However, you can rest assured that we will always inform you if you need to bump up your glass thickness up to 1/2".
1/2" glass is either a personal preference, or a necessity. If the overall size of the door or enclosure is very large we recommend 1/2" thickness to minimize flex.
Popular Hardware Finishes
Brass
Oil Rubbed Bronze
Brushed Nickel
Chrome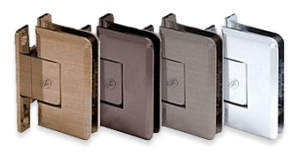 Glass Types
Clear
Low Iron Clear
Low Iron Mist
Bronze
Grey
Rain
Bubbles
Aqua View
Crepe
Mist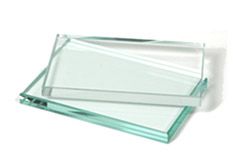 Master Glass Fabricators
All of our custom frameless doors and enclosures are cut in house, at our state of the art manufacturing facility in Coral Springs, Florida. Every custom frameless shower door and enclosure that we make has our name sandblasted into it, as well as your name engraved in the bottom edge. This ensures you that each piece was custom made by us—just for you.
With over 200 years combined glass fabrication and glazing experience, no other frameless shower door manufacturer or installation company has the technology, experience, or product knowledge that we posses.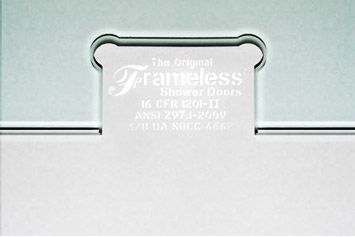 Door Pull Styles
Towel Bar
Towel Bar Handle Combo
Shower Door Handles
Shower Door Knobs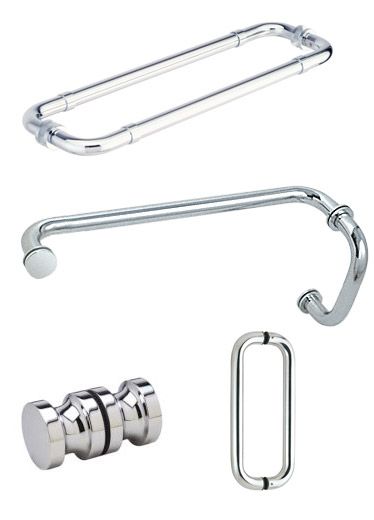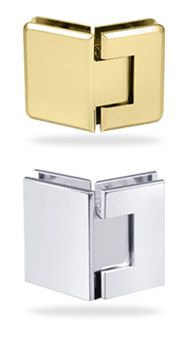 Mounting Hinge & Hardware Styles
The two most popular hinge types in our industry are wall mounted hinges, and "header to floor" pivot mounted hinges. Based on your unique configuration, we'll help you determine what type of hinge is the right one for you.
In some cases, your frameless shower door enclosure may require glass-to-glass hinges. Glass-to glass hinges allow you to install your door directly off another panel of glass, thus eliminating the need for a header.
Finally, you may choose between rounded or square edges for your hinges as well as matching mounting clamps to accommodate your own personal taste or style.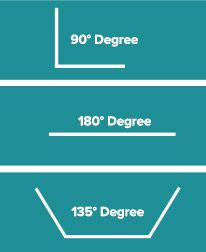 Most Common Frameless Angles
If you're planning on installing a brand new frameless shower door enclosure (new construction, or a total remodel) plan on using the most common angles. These angles include: 90° degree, 135° degree, or inline 180° degree.
If you are simply replacing your existing shower or entire enclosure, please keep in mind that we can accommodate just about any configuration or custom angles that you may have. Simply call us or email a photo of your opening, and we will gladly provide a design to you, always free of charge.