Design Your Shower Door
Select a Door Type Below to Get Started
Free in-home design estimates and installation available in South Florida, Tampa, Houston Texas, Dallas and Austin call 954-656-3700.
Outside our installation area? With InstallationEASY® you too can have the custom shower door enclosure of your dreams!
The Original Frameless Shower Doors® introduces InstallationEASY®. The nation's first and only zero fabrication DIY frameless shower door system.

Please Select A Door Type Then Choose A Layout That Best Describes Your Shower Opening
If you are looking for custom glass frameless shower doors and want to save money there's no better option than doing it yourself. Our DIY team fully supports you from start to finish. It's like having one of our installation pros right by your side every step of the way.
From measure to install, we've got your back. Our InstallationEASY™ processes and systems give you full control of easily designing and installing your own custom frameless shower doors and enclosures.
Now you can measure and install your frameless shower door just like a pro. Save hundreds of dollars with our complete DIY InstallationEASY™ process.
InstallationEASY™ by The Original Frameless Shower Doors® Offers:
Step by step videos and printable instructions to guide you through your measure & installation process.
Your very own dedicated technical adviser.
Unlimited technical support from start to finish.
Quickest turn around time in the industry.
Our proprietary hardware and SGCC certified glass make for the safest and quickest installation in the industry.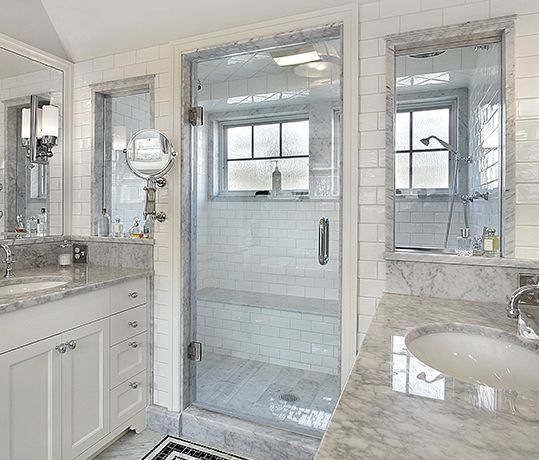 Single Shower Door
All of our frameless doors swing both in and out and will self center once they pass the "half way" point.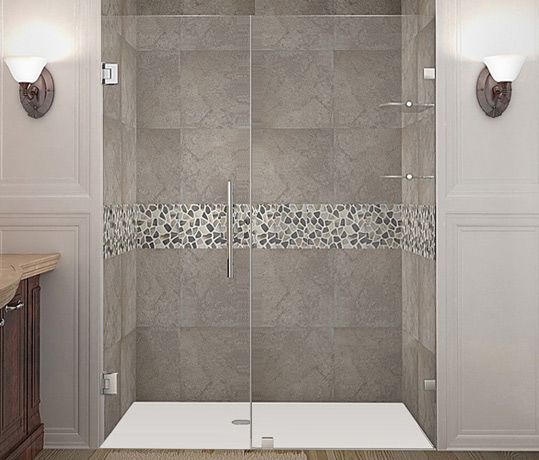 In-Line Door & Panels
"In-Line" means typically two or more panels are touching inline with a door.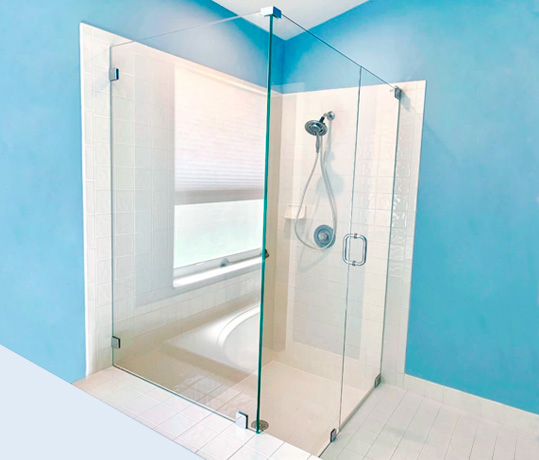 90 Degree
"90 degree" simply means that your frameless shower door enclosure has one or more square corners.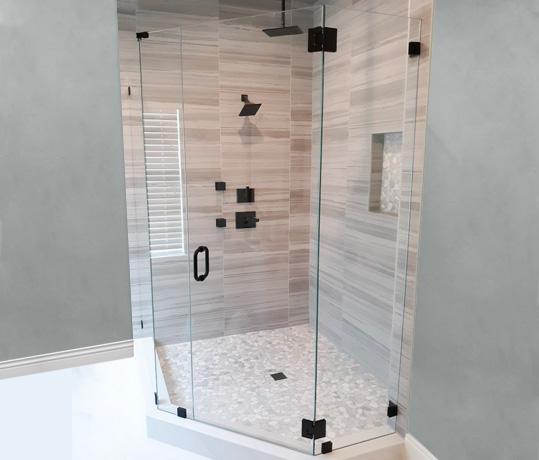 Neo Angle Door
A "Neo Angle" frameless shower enclosure has, in most cases, 3 sides with 2 angles that are not at 90° degrees.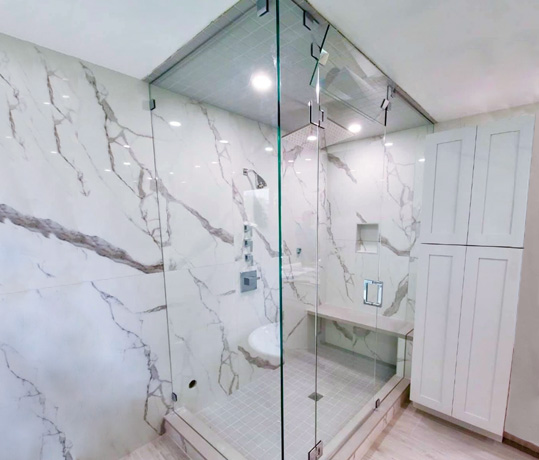 Steam Units & Custom Showers
Our designers can help you create the door that will fit your opening perfectly.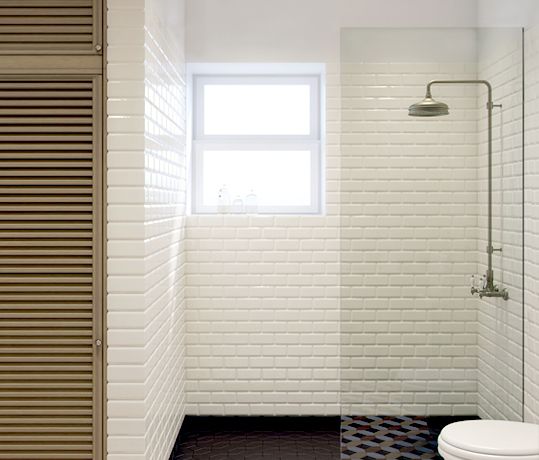 Splash Guard
A swing or stationary splash guard is an alternative to having a fully enclosed shower or tub area.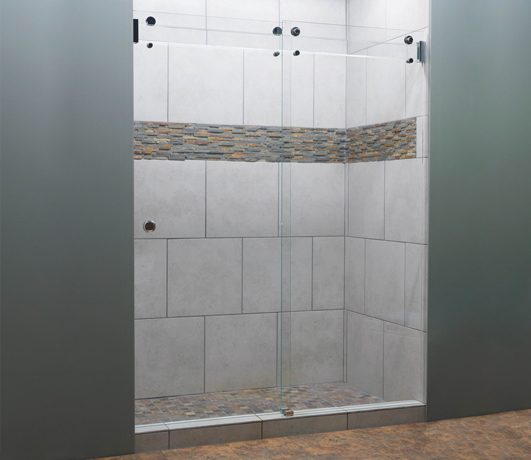 The Clear Slide™ Series
The Clear Slide is brand new to the shower door scene! It's the only ALL GLASS dual sliding enclosure anywhere, with a glass header! This totally transparent enclosure is unlike anything you've seen.  It comes standard with Low Iron (Ultra-Clear) Glass and a glass towel bar. It can incorporate a 90-degree return panel as well. If you really want to open up your bathroom, the Clear Slide is the way to go.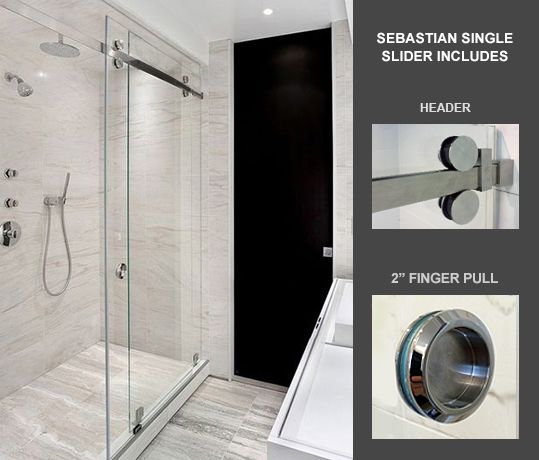 Sebastian™ Single Slider
This simplistic barn door slider is one of our most popular enclosures. Everyone loves its sleek design and modern feel with its slimline header and small yet smooth operating wheels. This sliding shower enclosure can be notched up onto a bench as well as incorporate a 90 degree return panel.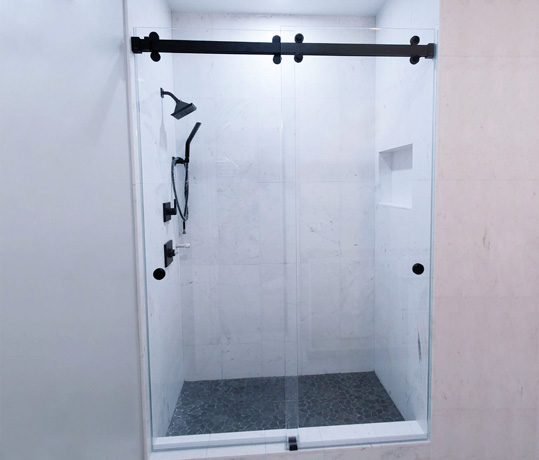 The Belmont Series
The Belmont™ has the same clean design as the Sebastian™ Series but with a double style header allowing for dual operating bypass doors. The specially designed roller bearings on the Belmont™ Series makes for a quiet and smooth sliding enclosure. It's made with high-quality stainless steel thus insuring long-lasting durability and premium aesthetics.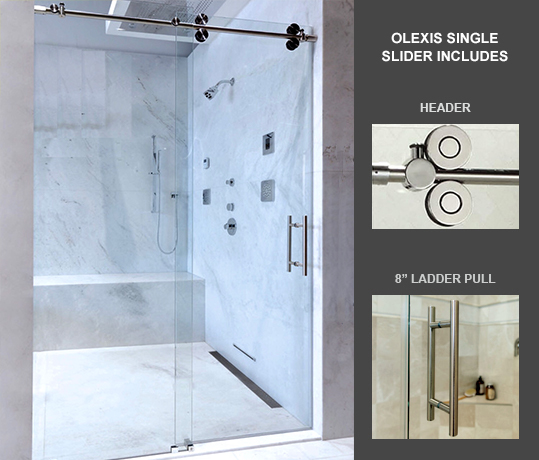 Olexis Single Door
This contemporary enclosure has larger heavy-duty rollers which gives off a striking industrial look and super smooth feel. It also comes standard with a larger 8" Ladder-Pull Handle. It can be notched up onto a bench as well as incorporate a 90-degree return panel.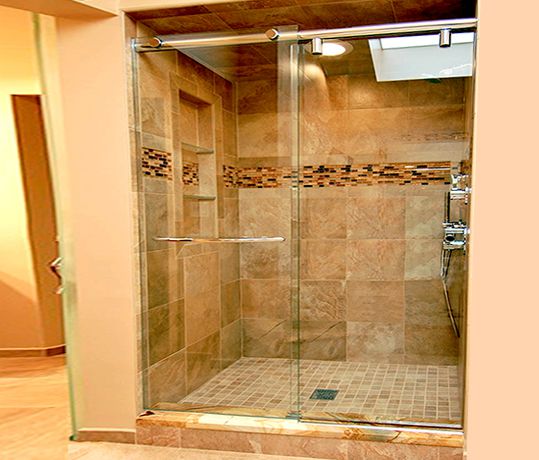 The Hydro™ Single Slider
This European style enclosure will make any bathroom look great. It's clean and sleek lines make it an excellent design for large or compact areas. The Hydro™ can also be notched onto a bench as well as incorporate a 90-degree return panel.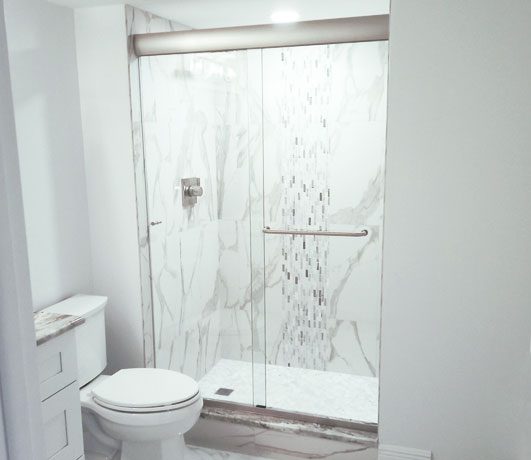 True Slide™ Shower Door
This dual sliding shower door enclosure was designed for maximum usage, perfect for the kid's bath or a guest bathroom. Made of heavy gauge aluminum, this sleek shower enclosure blends with just about any décor while still providing a frameless look since there are no metal channels on the vertical walls.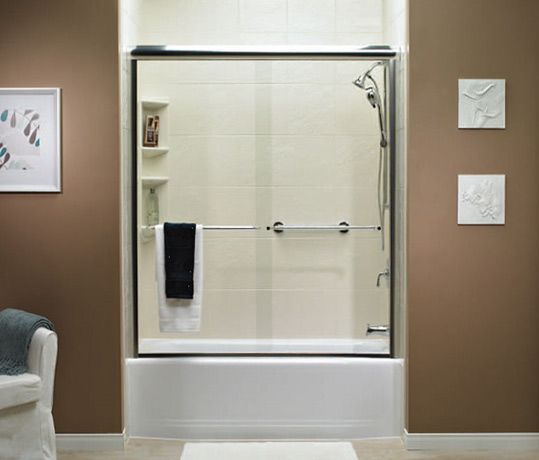 The Semi Series™
Being our only standard slider, this dual sliding frameless bypass shower or tub enclosure is economically priced with the heavy glass flair. It comes standard with an easy clean track and dual towel bars. It's sturdy design and affordability make it a great choice in any bathroom.