Design Consulting
Free Design Consultations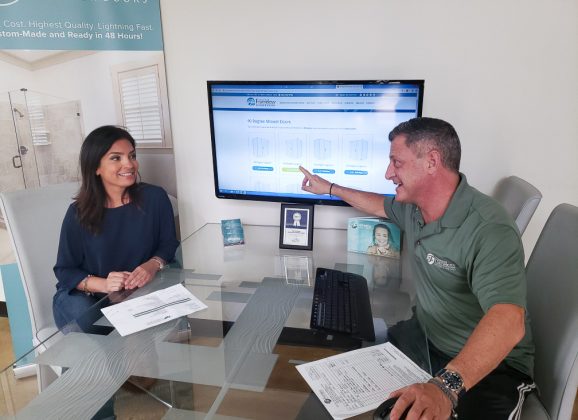 Let our Design Experts Help you with your next Project
Living in one of our many installation areas definitely has its perks! Give us a call and we'll send one of our design experts over to review all options available based on your opening size and configuration. ALWAYS FREE OF CHARGE. Simply give us a call at **855-273-6324** or send us a message and set up a time that's convenient for you.
We invite you to stop by one of our 200 showrooms located across the country. On display are some of our beautiful custom frameless shower doors and enclosures. All are available for you to browse and interact with so you can truly "see for yourself" The Frameless Difference™
Rest assured that a highly trained frameless shower door technician is just a call or facetime away to discuss any concerns you may have as well as make suggestions for you based on your specific needs and design that you are trying to achieve.
Trust the Brand That Started It All™
We offer FREE estimates as well as FREE in-home design consultations. Let our experienced technicians help you design the shower enclosure of your dreams at an affordable price.
For all of you do-it-yourselfers, our in-house design and technical support division is on call for you Monday thru Saturday, (9am to 5pm Eastern standard time) to address any questions you might have. It's like having a master frameless shower door technician in your bathroom with you to ensure your measurements are correct and your installation goes super smooth.
Have a large – or small-scale project anywhere in the US or Caribbean? Get in touch with us! We offer FREE advice via the internet, facetime or phone and can work directly with you, your engineer, designer, or architect FREE of charge!
Need us to come to your site? We'll measure and install your entire project, or even teach your team how to do it.