StayClean®
Learn More About Our StayClean® Technology
Our StayCLEAN® Protective Glass Is Available on All of Our Frameless Shower Doors & Enclosures.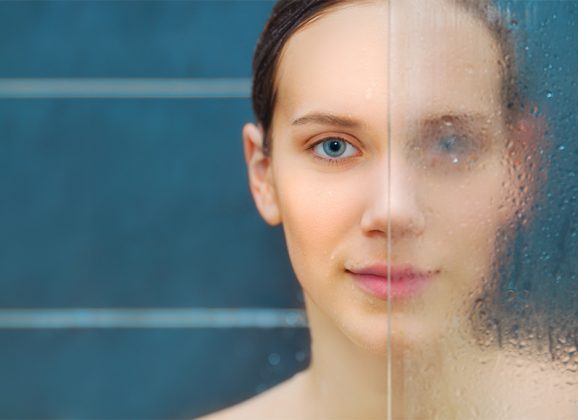 Say NO to soap scum and hard mineral deposits!
Our StayCLEAN® Glass is not like all the others, who hand apply a sealer to the inside area of the glass, that also wears off in no time.
Our StayCLEAN® Glass is the glass, meaning it's on both sides and edges of our glass panels, providing you with a lifetime of squeaky-clean glass- guaranteed!
Ask a Representative about the StayCLEAN® water and stain resistant glass.
StayCLEAN® is an award winning and patented nanotechnology process that makes glass surfaces easier to clean by making them water and oil repellent.
Our StayCLEAN® glass has an ultra-thin protective layer of optically clear material, which makes the surface significantly easier to clean and resists weathering. The bond created is a covalent bond, meaning the coating actually shares electrons with molecules in the glass itself, thus becoming part of the glass. Covalent bonds are approximately 10 times stronger than hydrogen-bridge bonds, which are commonly used in most other glass.
StayCLEAN® Glass Is Water and Oil Resistant as Well as...
Stain resistant
Scratch resistant
Impact resistant
20% more brilliant
No need for harsh chemical cleaners
90% less frequent cleanings
Reduction in mold and bacteria
Nowhere else can you get direct-from-the-manufacturer pricing, as little as 48-hour fabrication time and our StayCLEAN® water & stain resistant glass. It's our way of saying thank you for helping us become the nation's largest truly frameless shower door brand.