Frameless Shower Doors Vs. Regular Doors
The difference between frameless shower doors and regular sliding glass shower doors can be discerned through the name. Frameless doors lack the metal frame that encapsulates a regular door. They can range in thickness depending on the desired look and needs of the homeowner.
The type of door you choose for your home bathroom remodeling project will heavily influence the aesthetics and functionality of your shower. Frameless and sliding glass shower doors are the two most common choices and come with their own unique advantages.
What You Need to Know About Frameless Shower Doors
The absence of a frame gives homeowners a sleek and modern look that serves as an elegant centerpiece for the bathroom redesign. The more minimalistic approach can also make your bathroom appear larger and more upscale.
Some of the benefits of the frameless shower door approach include:
Enhanced Look and Feel – Frameless shower doors add to the visual appeal and make any bathroom look more modern.
A Wide Selection of Design Options – It's easy to find a frameless door in the style, size, and configuration that you're looking for.
More Easily Customizable – It's easier to customize the right door to fit your unique space without the metal frame and tracking around the door.
Easier to Maintain – Water collects around a shower door frame, resulting in soap scum. A frameless door won't have that residue and is easier to clean.
Because of the visual appeal and other benefits, a frameless door can be more of an investment in creating an elegant and modern look for your bathroom.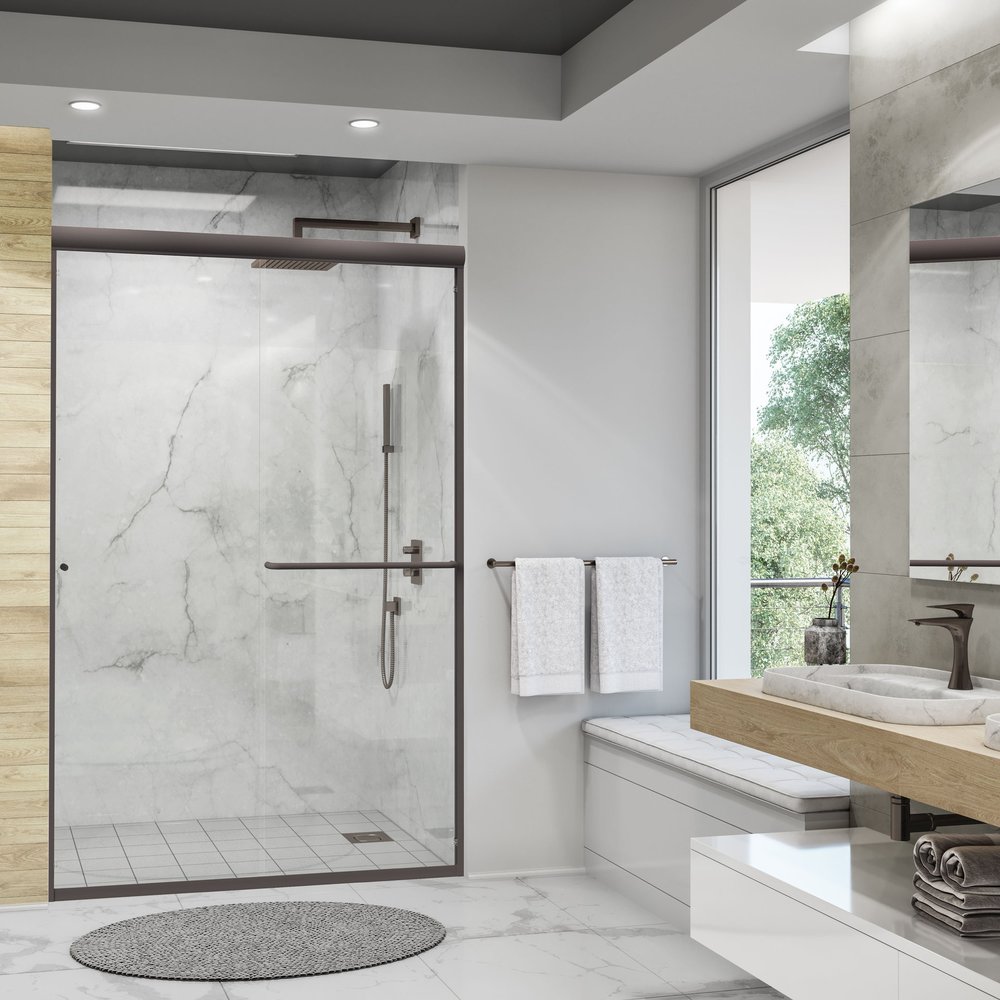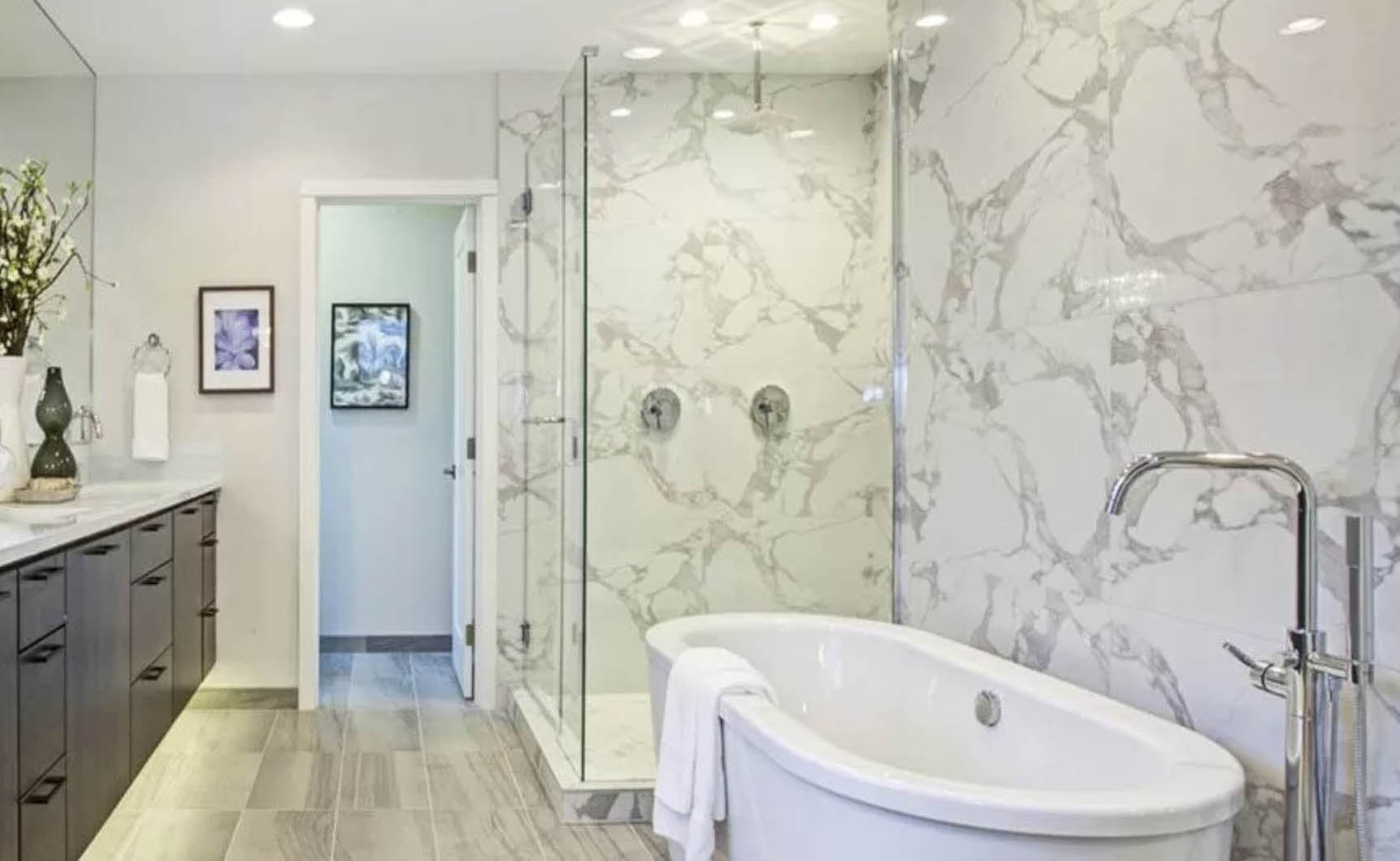 What You Need to Know About Regular Sliding Glass Shower Doors
Regular sliding glass shower doors have a bulky metal frame around the edge and are typically made with thinner tempered glass, making them a little less durable than a frameless door. The door then slides along tracking placed along the top and bottom of the shower area.
There are some advantages and some drawbacks of framed doors:
Fewer Leaks (However, more water in the frame = more mold and soap scum residue) – The frame serves as a barrier around water should it get close to the edge of the shower. That said, it can collect there, causing soap scum or residue that may need to be cleaned more.
Added Durability From Frame (However, they use thinner glass) – The frame and tracking setup can add an extra element of durability. It should be noted that the glass used for a frameless door is heavier-duty.
Affordable Cost (However, you get what you pay for) – A regular sliding glass shower door may cost less, while frameless doors are an investment in the look of your bathroom. The drawback is that you'll likely need to replace framed doors sooner.
One note of concern with a framed shower glass door is that the frame can start to rust and show wear and tear over time. This can make maintenance and upkeep more challenging.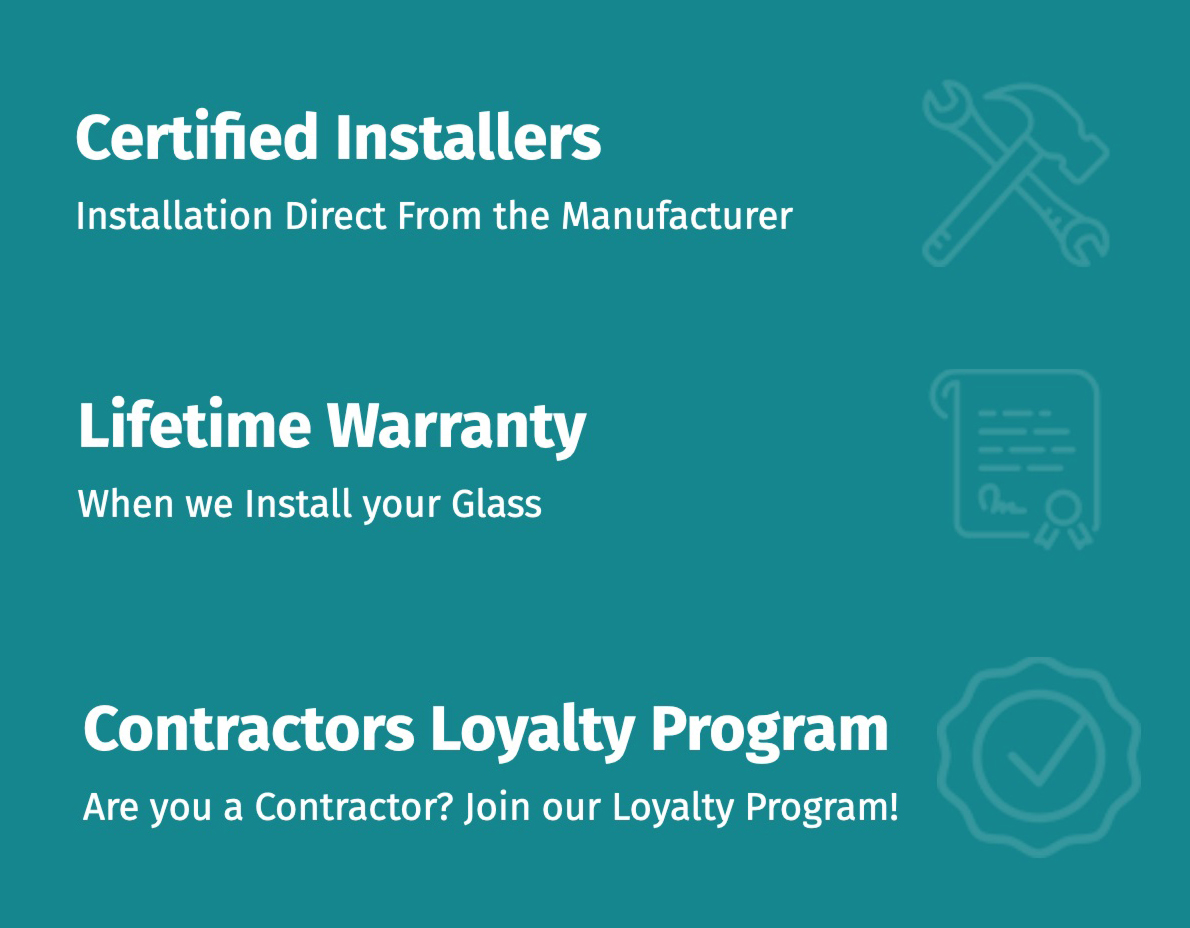 The Choice Between Frameless and Regular Sliding Glass Doors
The choice between frameless and regular shower doors primarily comes down to aesthetic tastes, remodeling budget, and preferences on maintenance and upkeep. A frameless shower door is an investment in the long-term look of your bathroom that requires less upkeep than its framed counterparts.
At The Original Frameless Shower Doors®, we've been providing bathrooms locally and nationally with an elegant and modern appeal for over 30 years. If you would like to talk with us about a beautiful frameless shower door for your bathroom, contact us or call (954) 656-3700 today!
To learn more about our shower door enclosures or to ask a shower door question, contact any of our knowledgeable advisors by calling 954-656-3700 or by simply completing our contact form.