Sliding Frameless Shower Doors
Silky Smooth Trackless Sliding Shower Doors
Custom Sliding Glass Shower Door
Take a look at the sliding glass shower doors that will beautify your home. Shower in luxury with The Original Frameless® Shower Doors, America's most trusted brand.
All of our sliding frameless shower doors (also known as Trackless Shower Doors) and their enclosures are custom-built for your bath area so there are no gaps and no leaks. Standard sized enclosures may not fit properly and leave gaps between the enclosure and walls, causing leaks.
With a custom shower door and enclosure, your floor and walls will require less cleaning and be better for you and your family.
The Clear Slide™ Series
The Clear Slide is brand new to the shower door scene! It's the only ALL GLASS dual sliding enclosure anywhere, with a glass header! This totally transparent enclosure is unlike anything you've seen.  It comes standard with Low Iron (Ultra-Clear) Glass and a glass towel bar. It can incorporate a 90 degree return panel as well. If you really want to open up your bathroom, the Clear Slide is the way to go.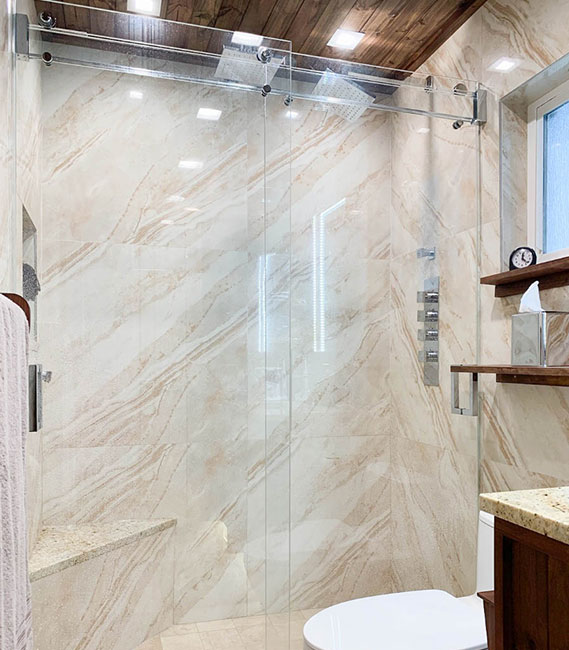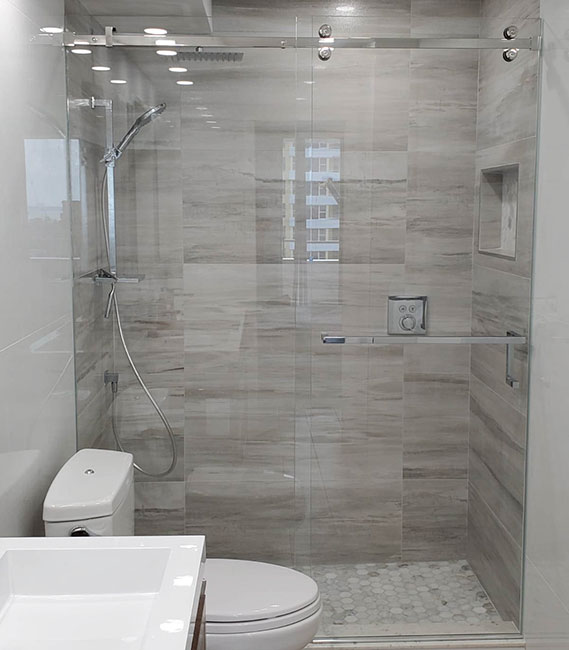 The Sebastian™ Series
This simplistic barn door slider is one of our most popular enclosures. Everyone loves its sleek design and modern feel with its slimline header and small yet smooth operating wheels. This sliding shower enclosure can be notched up onto a bench as well as incorporate a 90-degree return panel.
The Olexis™ Series
This contemporary enclosure has larger heavy-duty rollers which give off a striking industrial look and super smooth feel. It also comes standard with a larger 8" Ladder-Pull Handle. It can be notched up onto a bench as well as incorporate a 90-degree return panel.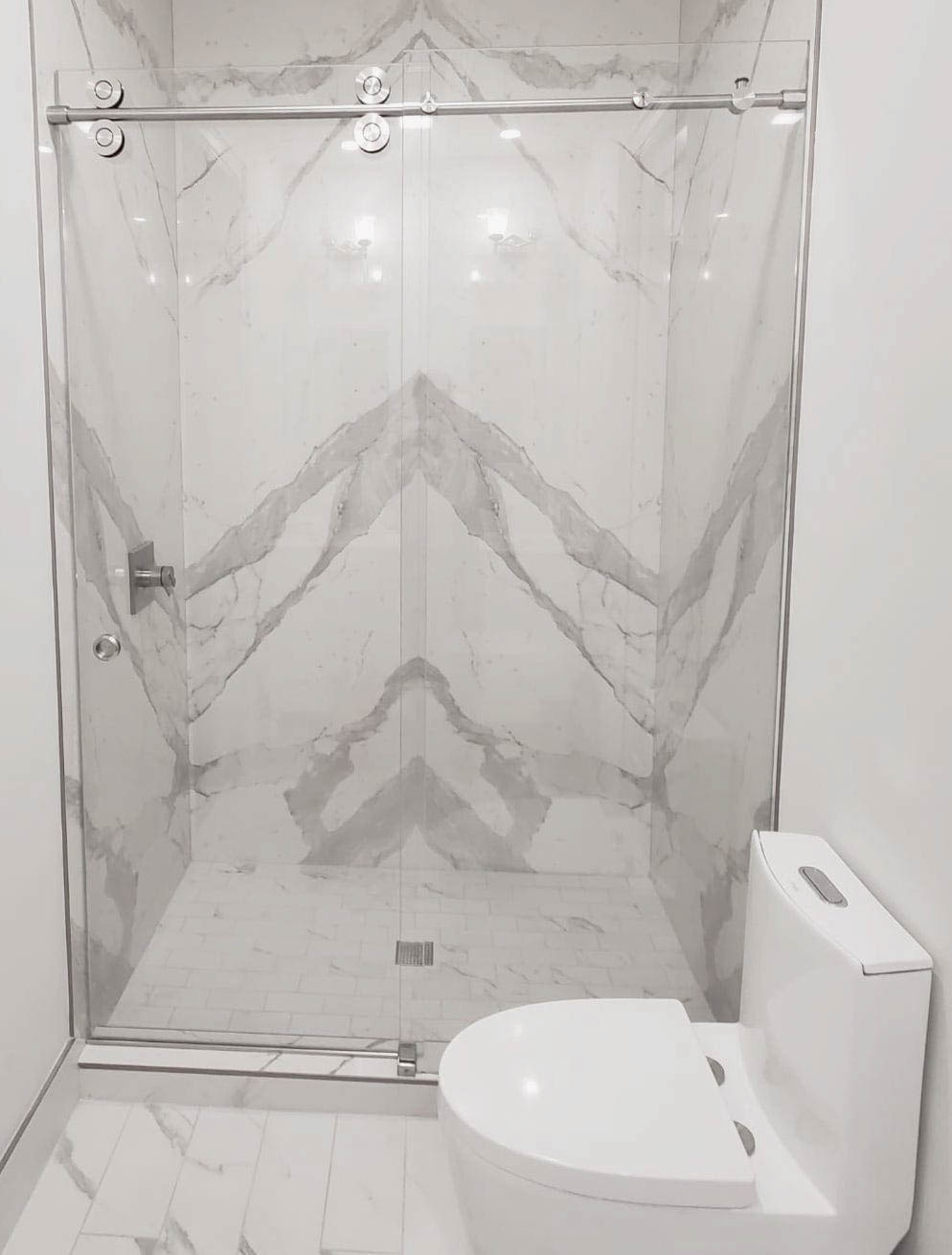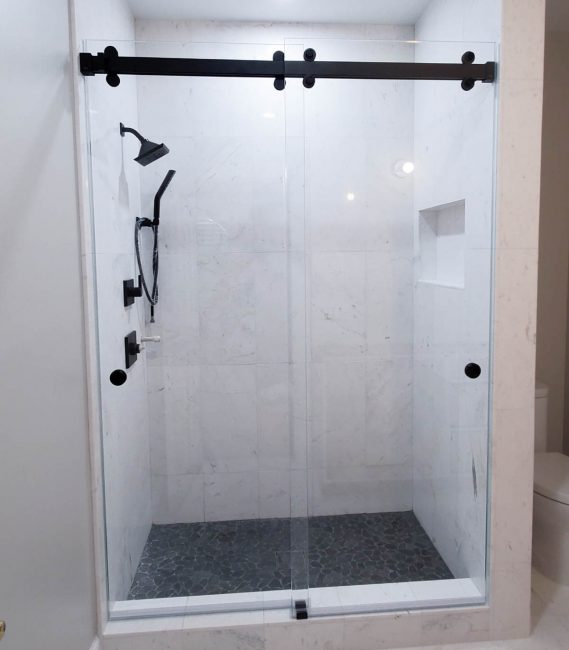 The Belmont™ Series
The Belmont™ has the same clean design as the Sebastian™ Series but with a double style header allowing for dual operating bypass doors. The specially designed roller bearings on the Belmont™ Series makes for a quiet and smooth sliding enclosure. It's made with high-quality stainless steel thus insuring long-lasting durability and premium aesthetics.
The Hydro™ Series
This European style enclosure will make any bathroom look great. It's clean and sleek lines make it an excellent design for large or compact areas. The Hydro™ can also be notched onto a bench as well as incorporate a 90-degree return panel.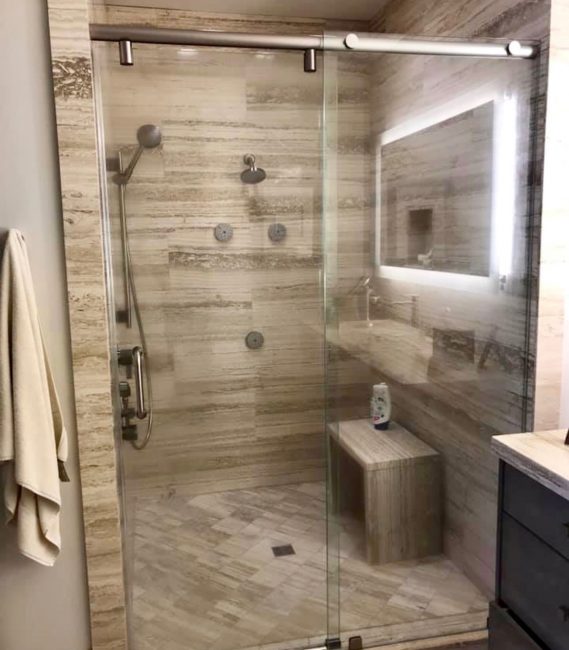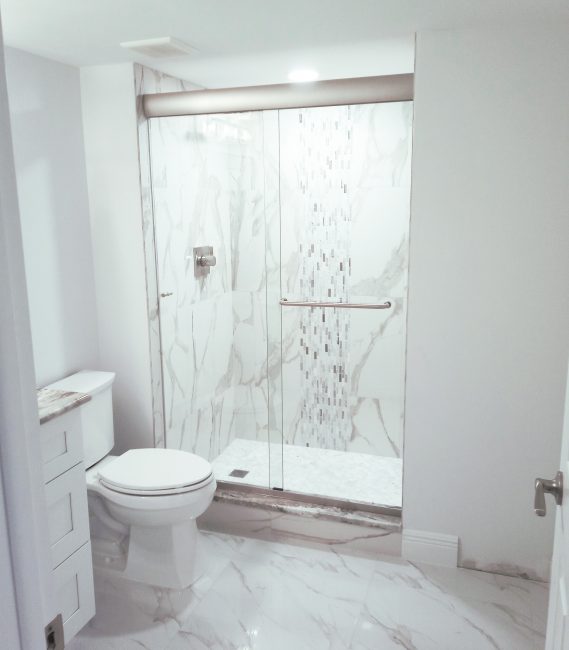 The True Slide™ Series
This dual sliding shower door enclosure was designed for maximum usage, perfect for the kid's bath or a guest bathroom. Made of heavy gauge aluminum, this sleek shower enclosure blends with just about any décor while still providing a frameless look since there are no metal channels on the vertical walls.
The Semi Series™
Being our only standard slider, this dual sliding frameless bypass shower or tub enclosure is economically priced with the heavy glass flair. It comes standard with an easy-clean track and dual towel bars. It's sturdy design and affordability make it a great choice in any bathroom.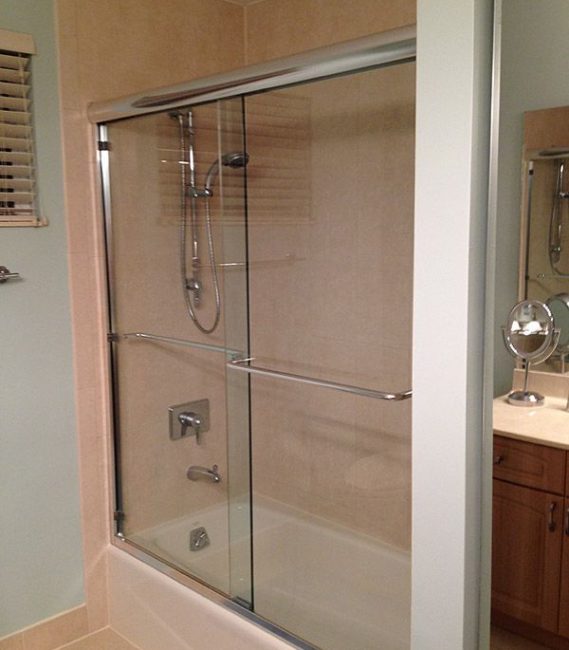 Are you tired of looking at your moldy, musty shower curtains? Or do you just want replacement sliding glass doors? Either way, we've got the largest selection of sliding glass shower doors you'll find. The Original Frameless Shower Doors have seven—that's right, seven—different series of customized sliding glass doors.
Most big-brand home stores and independent distributors have a limited selection of shower doors and enclosures. Plus, they mostly offer mass-produced replacement sliding glass doors. We make custom doors to fit perfectly into your bathroom space. As a USA manufacturer, we produce and install only the finest quality sliding glass shower doors and enclosures.  Our elegant, frameless shower doors make your bathroom look stylish and make your shower easy to clean.
You have a huge advantage when you buy wholesale from the brand that started it all. Unlike sliding glass shower doors at Lowe's, the Original Frameless Shower Doors provide custom designs and installation just for you.
Our high-quality frameless sliding doors don't compare to mass produced Chinese, semi-frameless sliding glass shower doors sold at big box stores such as Home Depot and internet sites such as Wayfair. With Frameless, you're buying direct from the manufacturer, avoiding the heavy markup that stores charge. As a result, you'll get your one of a kind, custom frameless shower door at wholesale prices. In addition, you'll receive a lifetime guarantee. Our licensed and insured master technicians will install your custom shower door within days of taking your final measurements.
Want a Beautiful New Shower?