Handicap Shower Enclosure





Using a Handicap Shower Enclosure
If you are looking for a way to make your bathroom handicap accessible, a Handicap Shower Enclosure may be just what you need. These enclosures are designed to provide a safe, comfortable, and convenient bathing experience for those with disabilities.
They are typically equipped with grab bars, seats, hand wands, low or curbless thresholds, and non-slip floors. These features can reduce falls, slips, and injuries while showering.
Our Design Process is Simple, Free, and Enjoyable from Concept to Completion!
With a custom shower, you get to choose your stall dimensions, number of fixed panels, angles at which panels meet adjoining surfaces, and more. You can even customize your hardware styles, hardware finish, and glass patterns or even etching.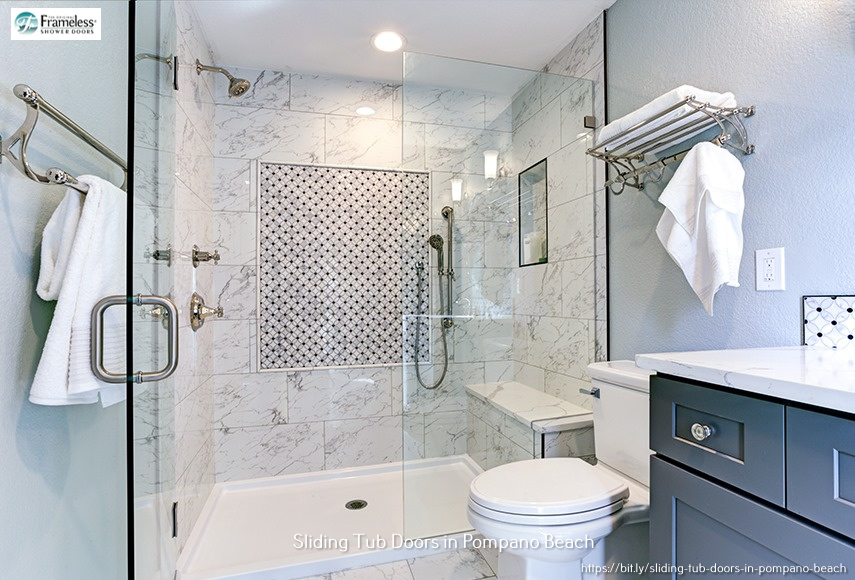 ADA Compliant
ADA showers are a great way to help handicapped individuals get in and out of the bathroom without the danger of falling or having injuries. Adding different safety components like grab bars, low or no thresholds, seating, hand wands, and non-slip floors helps decrease the risk of injuries.
Many ADA compliant shower stalls feature built-in seats and horizontal grab bars on the back wall and on the side wall opposite the seat. They also typically have a finished threshold height of no more than 1/2 inch.
In order to retain ADA compliance, the shower controls must be located so that they are within reach from outside the enclosure. The enclosure must not obstruct controls, faucets, or shower spray units or transfer to seats.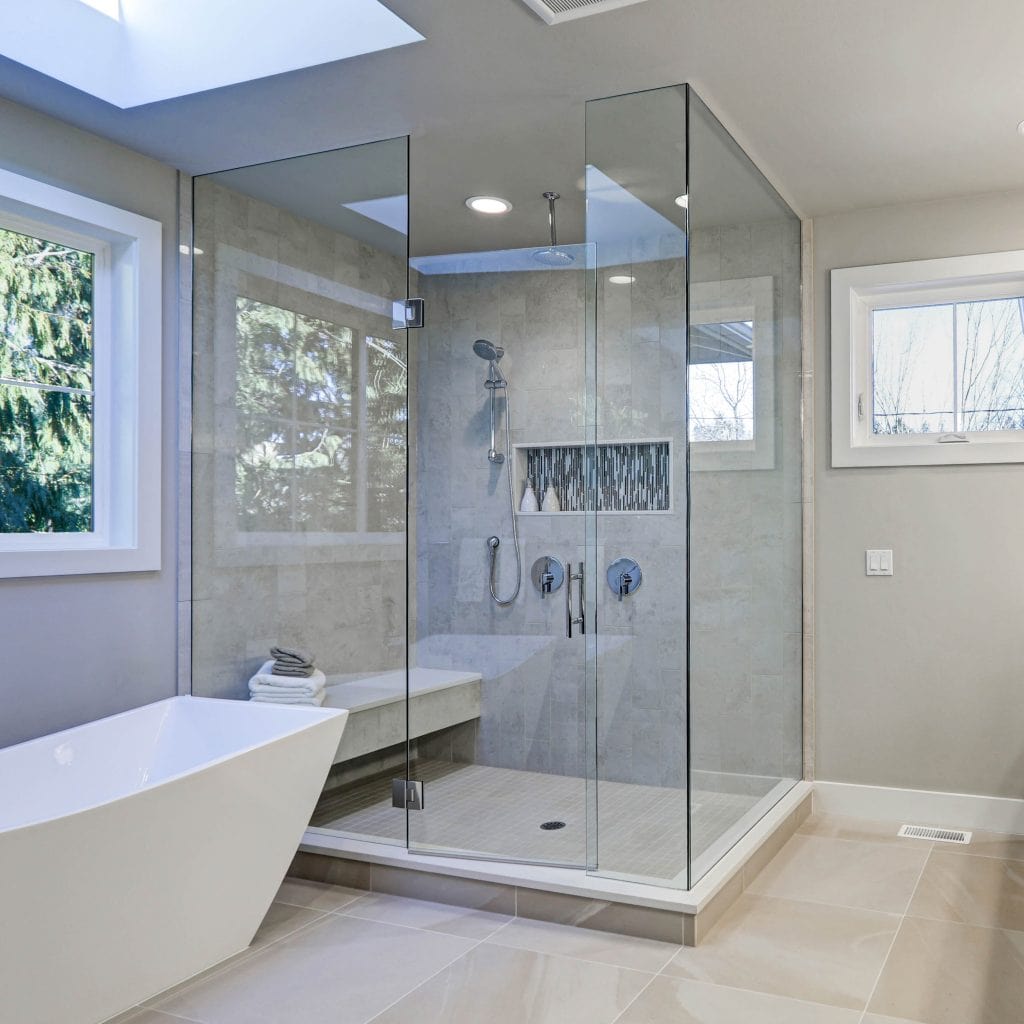 SHOWER ENCLOSURE OPTIONS

Handicap Shower Enclosure
ADA Shower Enclosure
Handicap Shower Enclosure
Wall-Mounted Seats
Wall-mounted shower seats allow the user to sit comfortably during baths and showers. They are a great solution for the elderly, the disabled, and those with limited mobility.
A folding shower seat mounts onto a bathroom wall and can be conveniently folded when not in use. The seat is ADA compliant and features swing down legs that can be folded up for space saving when not in use.
Whether you're creating a new walk-in shower or remodeling an existing one, adding seating can expand its function. Stools or benches keep toiletries close at hand, provide perches for shaving and/or washing, and offer additional storage niches.


Clear Floor Space
Clear floor space is a vital component for making any ADA accessible bathroom functional and enjoyable. It makes the toilet, shower, and urinals accessible to people with mobility challenges.
Ideally, the clear floor space for any fixture or element should be large enough to allow a standard manual wheelchair to park alongside and transfer onto the device. This may not be possible for all fixtures and elements, but there are a few tricks of the trade that can make it more attainable.
Why Hinged Shower Doors
Opting for a custom hinged glass shower door can elevate the style of any modern bathroom, especially those with curved designs. Additionally, they are a practical solution for older homes that require bathroom modifications to accommodate elderly or disabled family members.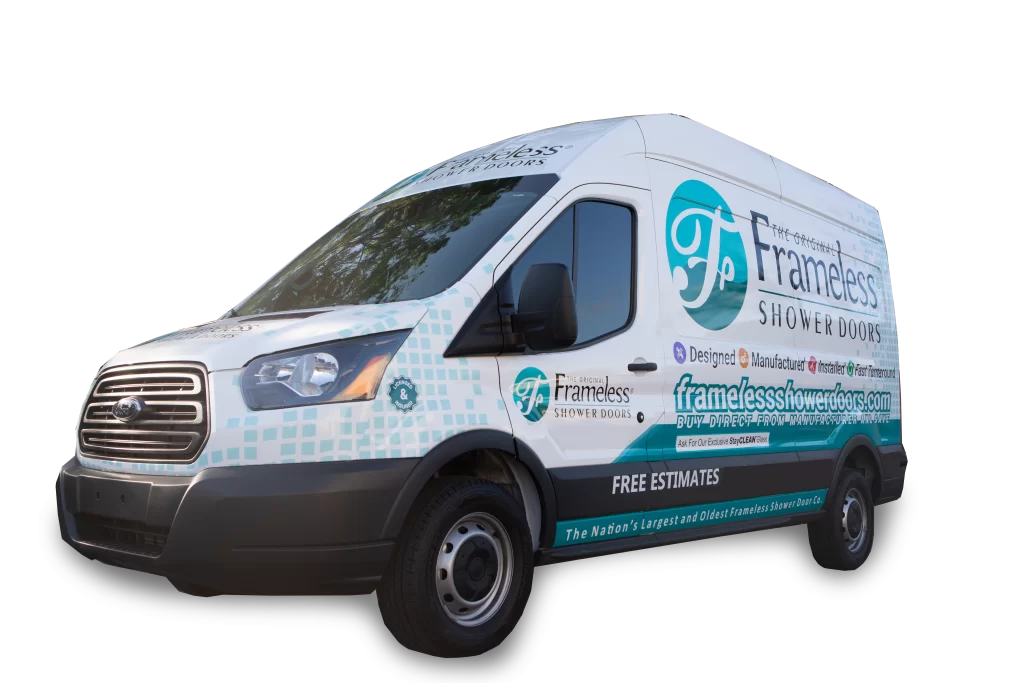 High-Quality Frameless Shower Doors - Custom Glass Frameless Shower Enclosures & Door Installation
We take great pride in making sure all of our installers are professional and highly trained. Our installers are full time employees of The Original Frameless Shower Doors. Every installer attends our weekly classes in our very own in-house school where they are taught the tricks of the trade, cleanliness as well as update them on the latest products available. Our installers are true experts in their craft and certified to install any type of frameless shower door enclosure. Expect to be impressed with their friendly manner, expansive insight and attention to detail. We are constantly striving to be better at an industry we feel we have created.