Tub and Shower Enclosure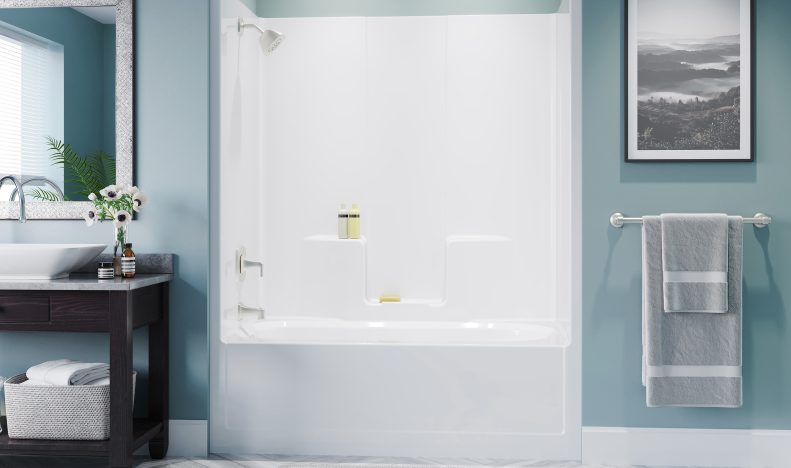 Upgrade Your Bathroom With a Tub and Shower Enclosure
A tub and shower enclosure is an affordable option for homeowners looking to upgrade the appearance of their bathroom. They typically feature tempered glass doors for privacy and a sleek look.
There are a wide range of options to choose from including hinged, pivot and bi-fold outward opening doors. Frameless and semi-frameless designs are also available.
Easy to Clean
Tub and shower enclosures take a beating from heavy use of water and soap. For this reason, they should be made of materials that are easy to clean and maintain.
While tile, porcelain and fiberglass are all popular choices for tubs and showers, they also require some amount of maintenance. For example, grout is a challenging surface to clean as it can harbor mildew and other bacteria.
Luckily, there are some simple steps you can follow to keep your bathroom looking squeaky clean and prevent mildew from taking hold.
Start by spraying your shower walls with a solution of equal parts white vinegar and warm water. Let it sit for 10 minutes or more for a deep cleanse, and then wipe it down with a non-abrasive sponge.
This is a good way to get rid of dirt, grime and other stains before scrubbing the surfaces. The acidic nature of vinegar helps it dissolve mineral deposits and cut through hard water stains.
Easy to Install
The installation of a tub and shower enclosure is a relatively easy job that can be completed over the course of just a couple of days. However, it is still important to ensure that you make the right choice when deciding to convert your bathtub to a shower.
Before you begin installing your new tub and shower, it is important to clean the area. This will help you get a smooth surface that can be adhered to.
Next, take measurements on your plumbing wall for the shower trim handle and tub spout. These measurements should be the same as those that you made on your shower side panel.
Then, use a hole saw to cut the holes for the fixtures. Be sure to rock the saw back and forth as you work to give yourself a cleaner cut.
Easy to Maintain
A tub and shower enclosure is an excellent option for homeowners looking to update their bathroom with a low-maintenance solution. These durable enclosures are easy to clean and can resist mold and mildew better than a shower curtain.
The simplest shower enclosures are made of glass, which can be cleaned with just water and a squeegee. This makes it much easier to keep your enclosure looking fresh and shiny than tile or natural stone, which can be prone to stains and fungus growth.
If your shower is made of ceramic tile or natural stone, make sure you wipe down the walls and floor after each use to prevent soap scum from building up. Regularly washing the grout lines will also keep them clean and free of mildew and bacteria.
You can also use white vinegar to wipe down your fiberglass or acrylic shower walls and floors to remove soap scum and mineral deposits that make them look dull and dingy. Using this cleaning solution regularly will help your tub or shower stay clean and look shiny.
Aesthetically Pleasing
When you're designing a bathroom that has both a tub and a shower, it's important to choose the right enclosure. Not only will it keep water contained, but it will also add a touch of style and sophistication to the space.
Frameless glass enclosures are becoming increasingly popular, and they're a great option for modern bathrooms. They're sleek and can be customized to match any decor.
Another trending design is to combine the tub and shower into one enclosure, which gives you two distinct bathing options. This is a great choice for family bathrooms where kids love to splash around, and it's also a good idea for smaller spaces.
Another way to enhance your shower's look is to install a border of accent tile above the tubs surround. This simple detail adds a pop of color and helps break up the smooth acrylic surround.