Ernie Francis Jr Races This Sunday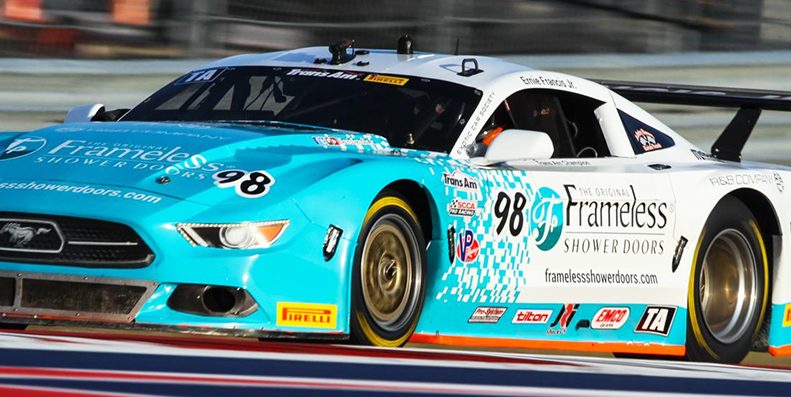 We Are Very Proud to Announce That Ernie Francis Jr. Professional Race Car Driver will be Racing this Sunday in The NASCAR Xfinity Series at Road America in the NextGen Motorsports #13Toyota. This is Ernie's very first NASCAR Race and he was approved to Race just last Friday by the NASCAR Officials. Scott Frybarger is Ernie's NASCAR Manager and is very confident that this is the beginning of the next level for our young prodigy driver. Thanks to Our New Title Sponsor, The Original Frameless Shower Doors Company, the sponsorship deal was put together just this week and we can't thank the owner enough and welcome him and his company to Our Family!
We also Thank Our Associate Sponsor The Buoniconti Fund to Cure Paralysis & The Miami Project to Cure Paralysis and Marc Buoniconti for Their Continuing Support. NBC Sports is Airing Our Race Live On Sunday Afternoon starting at 2:30 CDT… Please Watch!
Ernie Ty Francis Jr. is also Racing in The Trans Am Series presented by Pirelli Race in His Buoniconti Fund Ford TA… Ernie has 5 Wins so far this year and is well on his way to His Fourth Championship in a Row with the Breathless Racing Team.
We are pulling Double Duty this weekend and with one race in the morning and the other in the afternoon so we will have our hands full… Wish us Well!
ABOUT NEXTGEN MOTORSPORTS
NextGen Motorsports is very pleased to announce the debut of 19 year old, Ernie Francis Jr. in the NASCAR Xfinity Series race at Road America Johnsonville 180 on August 27th, 2017. NextGen Motorsports was founded on the principle of assisting your young diverse talent in their development and adaptation of their skills and abilities to compete in the NASCAR categories.
Ernie has competed in many forms of Cars and lately has been primarily driving on the T-4 Trans Am Series and has earned multiple podiums including the 2015 and 2016 T-4 Championships and currently leads the 2017 series. We all want to thank Frameless Shower Doors, for sponsoring such important race for Ernie Jr and Nascar Diversity .
ABOUT THE ORIGINAL FRAMELESS SHOWER DOORS COMPANY
The Original Frameless Shower Doors® (framelessshowerdoors.com) is the nation's only true buy direct from the manufacturer shower door company. Their innovative designs, quality products, unparalleled technical support and fast turnaround time make them the leading custom frameless shower door manufacturer in the USA. Their state of the art website allows you to choose multiple designs, select different types of glass and thicknesses, hardware styles as well as finishes and even provides an instant quote in seconds! Their innovative DIY InstallationEASY™ process was designed for homeowners as well as contractors and handy men, making the installation a breeze with no on-site fabrication required. Easy to follow videos and printable instructions, as well as all the in-house tech support one can ask for has made them for the 3rd year in a row one of INC. 5000's fastest growing privately held companies in the country! As their CEO always says, "We're changing the way buying a shower door is done."
ABOUT THE BUONICONTI GROUP
The Buoniconti Group excels at creating new opportunities for both Business-to-Consumer (B2C) and Business-to-Business (B2B) related clients. The Buoniconti Group has a proven track record working with healthcare, medical devices, consumer products, financial services, automotive, sports, retail, travel, software/hardware and non-profit organizations. What sets The Buoniconti Group apart is deep experience and capabilities, unique contact network and diverse business development solutions.
The Buoniconti Group will serve as Ernie's worldwide manager and representative relating to his professional motorsports racing career excluding the NASCAR Series. "We are extremely excited to be a part of the Ernie Francis, Jr. racing team. Ernie has demonstrated tremendous skills and talent even at a young age to dominate every racing series that he has pursued", says Marc A. Buoniconti.
The Buoniconti Group was founded by NFL Hall of Famer, Nick A. Buoniconti and his son, Marc A. Buoniconti, along with Mead McCabe, Jr. For more information contact 305-243-7157 or via email at [email protected]