Small Shower Enclosure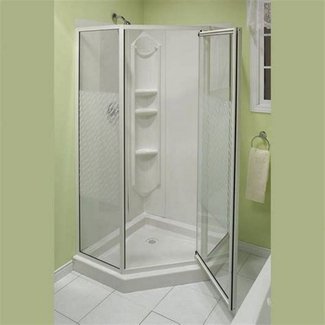 Make the Most of Your Bathroom Space With a Small Shower Enclosure
Shower enclosures can be a great way to add some extra style and function to your bathroom. They offer a number of benefits, including increased bathroom space, privacy, durability, and longevity.
If you're looking for a small shower enclosure that will maximize the space in your bathroom, then quadrant or square options are the perfect choice. They are compact in size, can be installed in corners and come in a range of sleek finishes.
The Aquadart Inline Hinged Enclosure
In-line shower enclosures are the perfect choice if you're looking for a stylish way to section off your bathroom. These doors are available in a variety of sizes and come in both sliding and hinged options.
This model from Aquadart has a sleek chrome profile and stunning easy-clean glass which will elevate your bathroom's style quotient a few notches. It is also treated with Clean & Clear, an innovative glass treatment which will help prevent the build up of limescale and water spots.
The Inline range from Aquadart is a frameless design with minimalist lines and striking solid brass hinges and fixings for a truly eye-catching look. Designed to the highest quality standards and backed by a lifetime guarantee from Aquadart, this is a truly luxurious piece of furniture for your bathroom.
The precision geometric shapes of this one wall design flatter any bathroom, whether it is a small en-suite or a large family bathroom. There are twelve sizes to choose from so you can find the perfect fit for your space.
The Newark Enclosure
If you want to make the most of your bathroom space, a small shower enclosure can be a great option. These are available in a wide variety of designs and can be fitted into just about any bathroom, enabling you to save on space without compromising on style.
The Newark Enclosure is a fantastic example of this, providing a minimalist 900 x 900mm easy fit quadrant shower enclosure with 5mm toughened glass sliding doors and a beautiful satin chrome finished frame. It's also supplied with a quality 40mm high white acrylic capped shower tray, made from polyurethane resin mixed with filler including volcanic ash to create a stunning contemporary look.
The enclosure has a number of high tech features, including Clean & Clear easy clean glass treatment, which reduces the build up of limescale and water spots. It also features a stainless steel door mechanism with pivot adjustment for precision when opening and closing the door. It's a very stylish design that will look the part in your bathroom for years to come!
The Newark Offset Quadrant Enclosure
If you're looking for a curved shower enclosure that fits into smaller spaces, the Newark Offset Quadrant Enclosure could be ideal. It is 800x800mm, which makes it the perfect size for small bathrooms and can easily be installed in a corner.
It is also frameless, so you can rest assured that it's a solid model that will stand up to wear and tear. It also features 6mm toughened glass, so it's durable and safe to use.
This is an incredibly popular style of shower enclosure, as it gives you a larger space to shower in than standard enclosures, but still looks great and will fit into most bathroom sizes. It also comes with a tray, which is always handy if you want to save space.
The most important thing to look for when buying a shower enclosure is the quality of the glass thickness. It's a minimum of 4mm, but the better ones are 8mm, which can make a huge difference to your experience when you're in there.
The Newark Frameless Enclosure
A frameless enclosure is a really stylish option that will add a lot of character to your bathroom. It also offers a lot of practicality as it means that you don't have to worry about water spots or limescale build-up.
There are a number of different options available, including this model from Newark. It comes at a truly budget price, and has so many great features that you are sure to love.
The door is very easy to open and close, thanks to the smooth rollers that have been designed to fit on the edge of the glass. It also features Aquadart's Clean and Clear glass protection, which helps to prevent the build-up of water spots and limescale.
The glass is 8mm thick, which is a great thickness for showering in as it offers a lot more strength than the bare minimum of 4mm. It also looks a lot more solid, so it will really stand out from the rest of your bathroom.