The Original Frameless Shower Doors Ranks No. 3043 on the 2015 Inc. 5000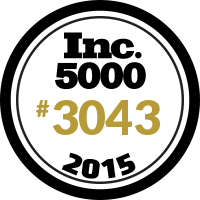 Inc. Magazine Unveils 34th Annual List of
America's Fastest-Growing Private Companies—the Inc. 5000
The Original Frameless Shower Doors Ranks No. 3043 on the 2015 Inc. 5000 
with Three-Year Sales Growth of 115%
NEW YORK, August 21, 2015 — Inc. magazine today ranked The Original Frameless Shower Doors #3043 on its 34th annual Inc. 5000, an exclusive ranking of the nation's fastest-growing private companies. The list represents the most comprehensive look at the most important segment of the economy—America's independent entrepreneurs. Companies such as Yelp, Pandora, Timberland, Dell, Domino's Pizza, LinkedIn, Zillow, and many other well-known names gained early exposure as members of the Inc. 5000.
"We are changing the way buying a shower door is done," stated the CEO. "Our InstallationEASY™ products are the only true DIY Shower Enclosure systems on the market. Our increased growth nationwide has proven our quality products are cost effective and can be installed by anyone without the need of a professional glass installer."
"The story of this year's Inc. 5000 is the story of great leadership. In an incredibly competitive business landscape, it takes something extraordinary to take your company to the top," says Inc. President and Editor-In-Chief Eric Schurenberg. "You have to remember that the average company on the Inc. 5000 grew nearly six-fold since 2012. Business owners don't achieve that kind of success by accident."
The Original Frameless Shower Doors have designed, fabricated, and installed hundreds of thousands of custom glass frameless shower enclosures for customers all over the globe. They have perfected the fine art of customized frameless glass shower doors that conform to their customer's specific measurements, ensuring that the shower door will fit perfectly in their bathroom. Being a fully certified manufacturer whose American Made glass is stamped with the company name on it, guarantees their quality and 48 hour turnaround time cannot be duplicated.
The annual Inc. 5000 event honoring all the companies on the list will be held from October 21 through 23, 2015 in Orlando. Speakers include some of the greatest entrepreneurs of this and past generations, such as Marcus Lemonis, host of the CNBC show "The Profit," Robert Herjavec, one of the main "sharks" on ABC-TV's "Shark Tank," KIND Founder and CEO Daniel Lubetzky, and Co-Founder of Goodshop.com JJ Ramberg.
For more information on The Original Frameless Shower Doors or to build your shower door, visit https://www.framelessshowerdoors.com/.
Media Contact:
Marketing Director
(954) 757-2114
[email protected]
For more information on Inc. and the Inc. 5000 Conference, visithttps://www.inc.com/.
For more information contact:
Inc. Media
Drew Kerr
212-849-8250
[email protected]