Top 8 Tips to Consider When Choosing A Shower Door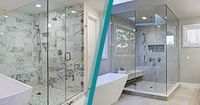 The bathroom is one of the most important rooms in any home. Most people start and end their day in the bathroom, from using the toilet and brushing their teeth to showering andbrushing their hair.For many, the shower is the centerpiece for the bathroom, where a hot shower helps them unwind and relax from the stresses of the day. When it comes to selecting a shower door, a few ground rules need to be considered before making a choice.
Appearance. Frameless shower doors add a sophisticated, elegant look.Having limited hardware can really feature the centerpiece of the shower, such as stone, tile, or other beautifying features of the shower's interior. In short, frameless shower doors and enclosures can beautify your bathroom more than you think.
Ease of Cleaning. The more common framed showers allow bacteria and mold to grow in the "hard-to clean" areas. Frameless glass there's no need to worry with those "hard to clean" areas. The Original Frameless Doors use our proprietary StayClean® glass for all our doors and enclosures. StayClean is an award-winning, patented process that makes glass surfaces easier to clean by making them water- and oil-repellant.
Consider Resale Value. The attractive appearance of frameless shower doors adds extra appeal for potential home buyers. According to a survey by the National Association of the Remodeling Industry, renovating the vanity, flooring and shower inside your bathroom is proven to provide the highest return on investment. Frameless shower doors can pump up the value of your home more than a traditional, framed shower enclosure.
Custom Made vs. Assembly Line. Most shower doors are simply mass-produced, off-the-shelf doors.They don't feature the attention to detail that goes into every door produced by The Original Frameless Shower Doors. Plus, our shower door experts offer free design consultations, and they come to your home to make measurements to fit your bathroom specs. We personally guarantee that you get unique glass that has been hand crafted just for you at our manufacturing facility.

Modern vs. Traditional. While framed shower doors might provide a more economical and traditional-looking option, frameless doors and enclosures infuse a clean, ultramodern look for any home.
The Appearance of Space. Generally, bathrooms have limited space. A large, enclosed shower can take up a considerable expanse of real estate, obscuring the bathroom's features.Frameless shower doors can lend the appearance of having more space, effectively functioning to open up the bathroom area. They make your bathroom look larger.
Natural Light. The completely clear appearance of frameless shower doors allows for more natural light to penetrate your bathroom. The typical framed door will obstruct light. The natural light will serve to create a bouncy, healthy atmosphere for your bathroom.
Spa-like Feel vs. "Just a Shower." The typical framed shower doors—or even a basic shower curtain instead—make taking a shower a routine, humdrum experience. On the other hand, frameless shower doors make shower time exciting, helping you feel like you're indulging at a five-star resort.