The Benefits of Frameless Glass Shower Doors
Modern bathrooms are all about openness, fluidity, and flow. Their open designs attempt to bring together such disparate elements as decorative tile, contemporary bath fixtures and sprawling vanities. Traditional shower doors, with their hard lines and glaring frames, tend to work against that aesthetic by creating closed, defined spaces. Investing in a frameless glass shower door, on the other hand, helps to create a more open, seamless, and contemporary space, that offers a unique design opportunity. Since most contemporary style bathrooms are usually visual and feature intricate bathroom fixtures and decorative tiles, frame less shower glass doors have been gaining fame among many homeowners.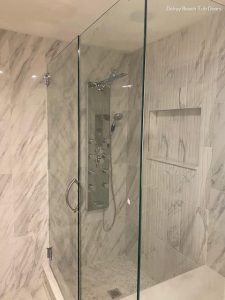 Frameless shower enclosures look elegant, but one of their most redeeming qualities is toughness. Standard shower glasses can range in thicknesses from 3/8 to 1/2-inch, which makes them sturdy, structurally sound and safe. Watertight seals prevent leakage and, since there is little to no metal used in the construction of frameless enclosures, homeowners never have to worry about replacing corroded parts. A frameless glass shower door is a shower door made completely of glass. Since they don't need frames to support their weight or slide on, these doors almost universally operate by swinging open and shut on hinges. They are usually installed as part of a larger, frameless glass shower, and it's the lack of frames throughout that draw so many homeowners to this innovative shower design. Perhaps the greatest selling point of these doors isn't their appearance, but their lack of one. In the never-ending battle to make bathrooms feel larger and more open, a shower door that is hardly noticeable at all makes a huge difference. Instead of a door that walls off a significant portion of your bathroom, a frameless shower door helps to incorporate your shower space into the greater bathroom area.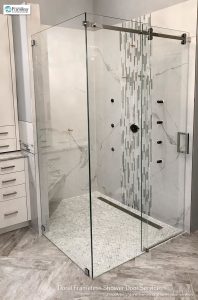 More homeowners are looking to transform their bathrooms into luxurious, relaxing retreats that feature the looks and amenities of an upscale spa. Glass shower doors are one way to upgrade the appearance of a bath and to lessen the burden of maintaining it. There are numerous advantages associated with frameless shower enclosures, ranging from practical to fashionable, and if they're done right, they can add to the overall value to your home, too. Durability is reliable because thicker glass is used for it to support the panels that do not have the structural edge of aluminum framing. This kind of shower doors is easier to clean and can be restored to looking like new, due to the trackless design. Plus, the seal-in technology of frame less glass doors keeps the water from spilling out to the greater bathroom area. Frameless shower enclosures open up a world of possibilities because they provide a perfect complement to durable, high-style surfaces commonly used in the bath, such as tile, marble and granite. They also provide a great way to show off the trendy shower heads, faucets and fixtures that have become so popular in contemporary bath design.
ts invisible appearance creates flowing space and a sweeping look that matches stylish bathroom designs, making the space seem much bigger and grander than it may be otherwise. Decorative tile designs and ornate lighting in the interior of the shower area are put on display as well. Not only does the addition of frameless glass in your bathroom help it to feel more open and spacious, frameless showers also put your shower and bathroom tile design on display. That might sound a bit trivial, but when you consider the beauty of today's stone, ceramic, glass and pebble tiles, you can see why putting your tile on display can be a huge selling point with these innovative shower door designs. A question that many homeowners ask when they start looking into frameless shower doors is whether the glass is safe if the edges aren't hidden by a protective frame barrier. The answer is a definitive yes. Frameless glass edges are filed down to a smooth surface that presents no danger to anyone climbing in or out of your shower. And since glass showers are made of tempered glass they are also very difficult doors to shatter or break.
Finally, because of their openness and transparency, frameless shower enclosures can make your bath feel bigger than it really is. Frameless doors can be designed to fit any space, making them ideal for bathrooms, large and small. And they don't have to be boxy, either. Frameless shower enclosures can be circular, oval or triangular in shape. Even standard square or rectangular enclosures can be dressed up with an artfully bowed, patterned or etched glass door. Let's face it. We all want to live in our homes for as long as we can. Frameless shower enclosures are a great way to let your home age with you because the entry can be leveled with the floor to create easy access as we become older and less mobile. Frameless glass shower enclosures are a great way to meld timeless style with ageless accommodation.