Shower Base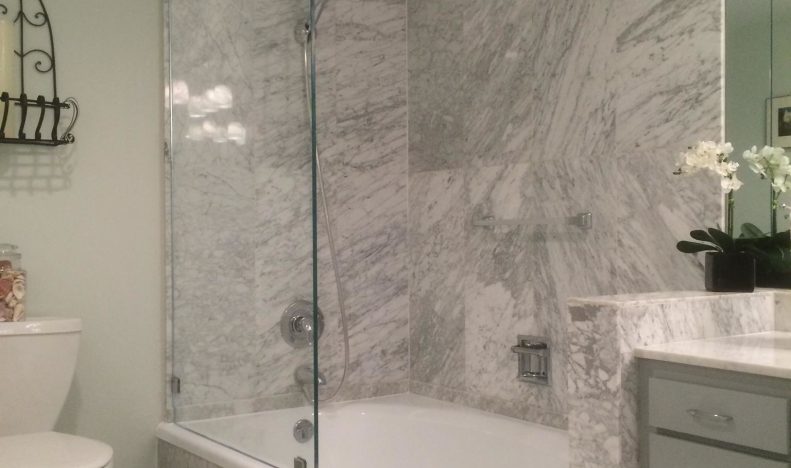 Achieve Your Dream Bathroom With the Perfect Shower Base
Are you dreaming of the perfect bathroom to come home to? You can get one step closer to achieving that dream with the installation of a shower base. A properly designed and built shower basin will provide years of solid performance, safety, comfort, and beauty for your bathroom. The best way to ensure every detail is perfected for your space is by consulting with professional shower door installers who know how to create an ideal fit for any setting. Investing in the correct materials such as high-grade tile or marble not only makes it last longer but brings added value when it comes time for resale. Working together with trusted experts, you are sure on your way toward achieving your dream bathroom!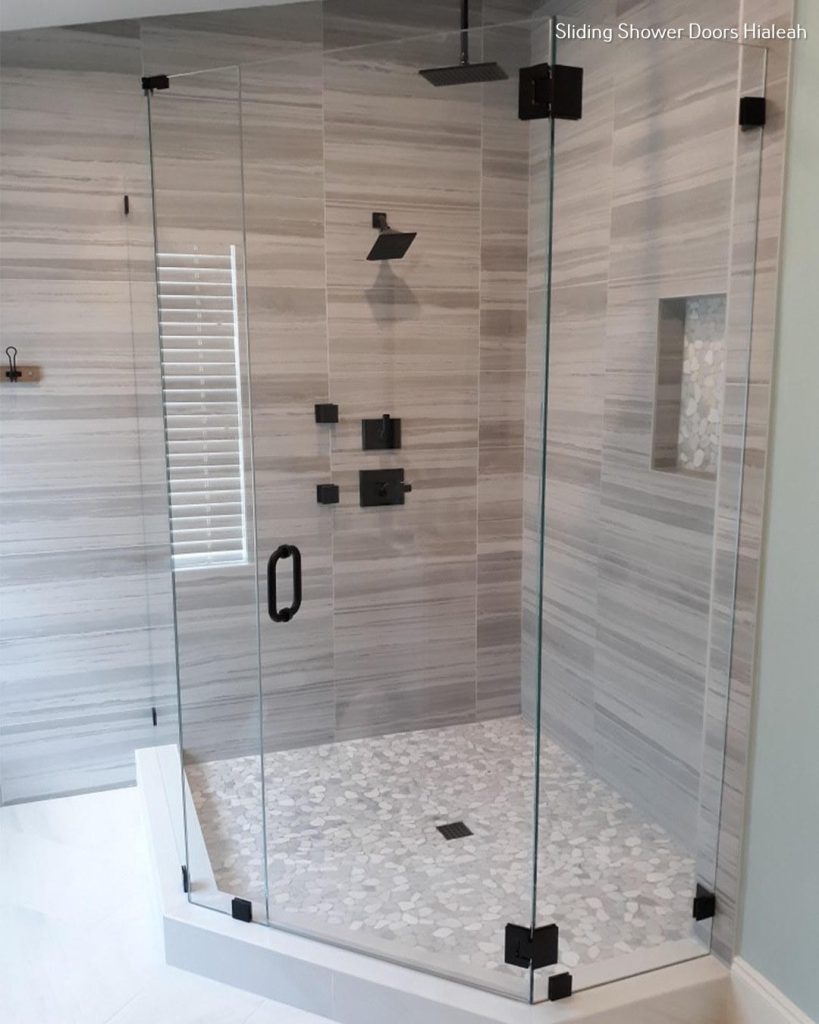 Understanding the Different Types of Shower Bases 
There are several types of shower bases that you can choose from, each with its own advantages and disadvantages. Understanding the different types of shower bases can help you choose the best one for your needs and budget.
For example, neo-angle shower bases are designed for corner showers and come with a curb, tile flanges, and a built-in drain pocket. They are easy to install and available in a variety of shapes, sizes, and colors.
Acrylic
Acrylic shower bases are a great option for bathrooms that need a durable, low-maintenance base. They are available in a wide variety of colors and styles and can be easily customized to match your bathroom's look and feel. Aside from being inexpensive, they also last longer than fiberglass and require fewer repairs. The material is less likely to break or crack, and its glossy surface makes it easy to keep clean and free of mold and mildew.
Another advantage of acrylic shower bases is that they are easier to install than tile showers. However, they can be susceptible to scratches and damage. These problems can make them expensive to repair in the future.
Fiberglass
Shower bases come in a variety of materials. Choosing one that will be best suited for your bathroom is an important step in the process of building or renovating your shower. Fiberglass is a popular choice for many homeowners due to its relatively cheap pricing. It's also durable and less prone to breakage than acrylic.
However, it's also sensitive to extreme heat and can corrode when cleaned with cleaning solutions that are too acidic. It can also be a breeding ground for bacteria, especially in odd corners. Acrylic shower pans are safer, more flexible, and easier to install than fiberglass. They are heated, stretched, and molded into their shapes. They are usually more expensive than fiberglass but can be worth it for their low maintenance and fewer repairs.
Solid Surface
A solid surface shower pan, tub, or wall is made of a nonporous blend of resins, fillers, and pigments. Because of this, they're resistant to mildew, mold, and bacteria growth in high-moisture areas like the shower. The solid surface material is also durable, making it a great choice for your home's bathroom. It can withstand scratches and stains, and you can sand it down and refinish it to make it look brand new again. Another benefit of a solid surface shower base is that they're easier to install than tile. They can be cut and customized with standard woodworking tools, so it's a quick and easy process.
Tile
Tile shower bases are a popular option for those who want a classic look. They come in a wide variety of colors and are easy to clean. Aside from their aesthetic, tiled shower bases are durable and resistant to damage and staining. However, they do require routine maintenance and cleaning to keep them looking fresh.
Another advantage of this type of base is that it is less sensitive to the cleaning products you use. This saves you time and energy and prevents you from having to worry about stains. The disadvantage of these types of bases is that they can be expensive, particularly if they're made out of cast iron. They also require more work to install than a prefabricated unit.
Molded Stone
When it comes to shower bases, there are many different types of materials that you can choose from. They can range in price, color, and durability.
Acrylic, for instance, is an affordable option that's lightweight and easy to install. It's also resistant to scratches and has a wide variety of colors that match most bathrooms.
However, it's important to remember that acrylic bases can be prone to staining and discoloration. They also may be susceptible to mold and mildew growth if not properly maintained.
Alternatively, you can choose a molded stone shower base. These come in a variety of colors and are made from solid surface material that mimics the look of marble and granite.
What Are the Benefits of Installing a Shower Base 
When it comes to renovating your bathroom, one of the most important decisions you will make is what type of shower base you want to install. Tiles and acrylic shower bases are two popular choices, but both have their benefits and drawbacks. The bottom of your shower is the most vulnerable part of your bathroom, and a properly installed shower base protects the floor and subfloor from water damage.
Easy to Clean
One of the best things about shower bases is that they're incredibly easy to clean. This makes them ideal for busy households that aren't afraid to invest a bit of time into cleaning their bathrooms. If you have a tiled shower base, you can clean it by using a natural, low-maintenance cleaning solution of baking soda and vinegar. Mix just enough of each ingredient to form a paste and apply it to the grout lines with an old toothbrush or sponge.
You can also get rid of soap scum in a ceramic tile shower by spraying the walls and floor with a non-acidic, all-purpose cleaner like bleach or rubbing alcohol. Leave the mixture for a few minutes to allow it to break up the soap scum and dirt, then scrub the walls and floor. Fiberglass shower pans are a great choice for freestanding showers because they take less time and money to install than tile and grout, but they're susceptible to limescale, soap scum, and stains. These stains can damage fiberglass, so it's important to clean them regularly to keep them looking shiny and new.
Durable
The shower base is one of the most important parts of a shower, as it supports your weight, drains water properly, and helps keep you safe from slipping. It's also important to choose a durable material, so you can enjoy your shower for years to come. A shower base can be made from a variety of materials, including composites such as fiberglass or resin. These are typically less expensive than solid-surface shower bases and easier to install.
Another option is molded stone, which can give your bathroom a luxurious look and feel. It's very durable and can withstand common problems such as mildew and mold. Acrylic is another popular choice for shower bases. It's an extremely durable material that holds up well under pressure from running water and is heavyweight. It's also water-resistant and doesn't stain easily.
Non-Slip
A shower base is a crucial part of your bathroom renovation, keeping water from dripping off the floor and into the basement. Additionally, it helps to keep your bathroom clean and free of mildew. Slippery floors are one of the most dangerous hazards in bathrooms because they can lead to serious accidents, such as head injuries or broken bones. This is particularly true for older people and those with impaired balance.
Non-slip surface treatments are easy to apply and drastically reduce fall risk by increasing friction levels on wet floors, bathtubs, and shower surfaces. Anti-slip formulas are liquid-based coatings that can be applied directly to your shower floor for permanent traction. These products are safe to use and cost-effective, making them a great option for those looking for a no-hassle solution.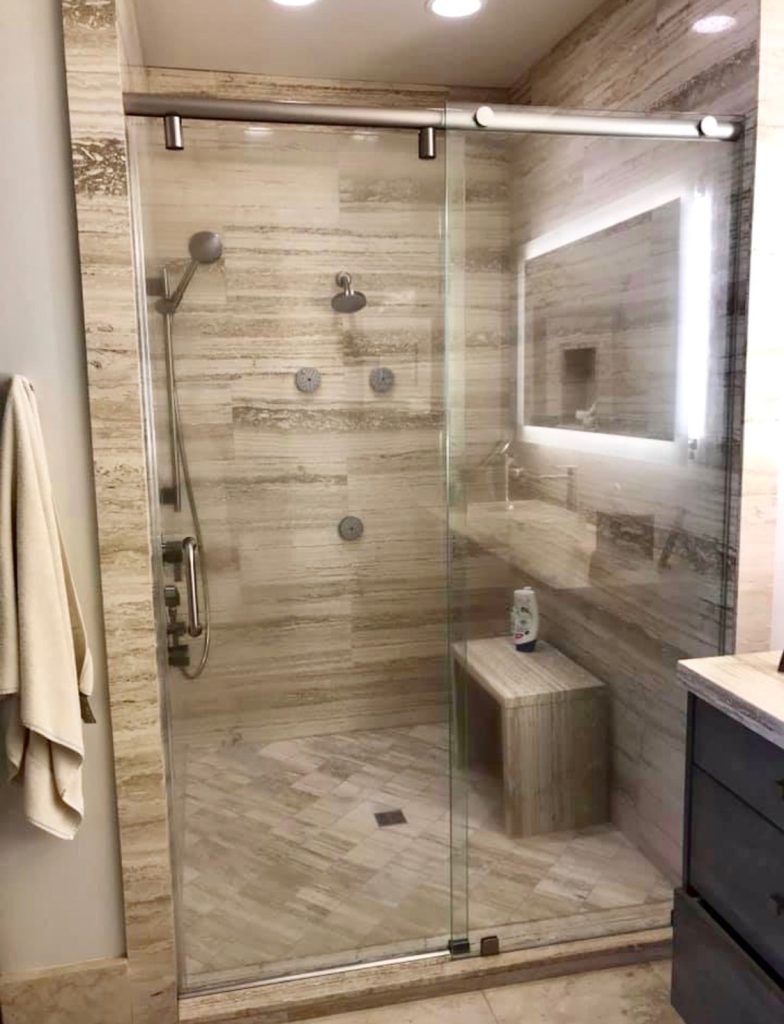 How to Choose the Perfect Shower Base for Your Bathroom 
Are you looking for the perfect shower base for your bathroom? With so many different types, sizes, shapes, and materials available it can be a daunting task to choose the right one. Fortunately, this article is here to help guide you through the process of selecting and installing the ideal shower base that meets both your style preferences and budget. We will provide an overview of all the factors to consider when choosing a shower base, such as size, shape, material, and installation type. Additionally, we'll discuss some tips on how to properly install your new shower base as well as go over some of the various types of bases available in today's market. By following these guidelines you should have no problem finding a durable yet stylish option that fits perfectly into your bathroom space!
When deciding on the size of your shower base, it is important to think about how much space you have available. Measure the width and length of your bathroom so that you are able to get an accurate figure for the size of the shower base that can fit in the designated area. You should also take into account any other bathroom features such as toilets or vanities which may limit your options. In addition to size, you will need to consider the shape of your shower base. Oval, rectangular, and square-shaped bases are all popular choices but make sure that whatever shape you select fits with the overall design aesthetic of your bathroom.
Another factor to keep in mind when selecting a shower base is material. Some common base materials include acrylic, fiberglass, and stone. Each material has its own unique benefits and drawbacks so it is important to consider which one would be the most suitable for your needs. Acrylic bases are lightweight and easy to install but can be less durable than other materials. Fiberglass shower bases are strong and resistant to mold and mildew while stone bases are stylish yet more difficult to clean and maintain.
You must also consider the type of installation that you need for your shower base. Depending on the size, shape, material, and configuration of your bathroom walls you may need a wall-mounted or corner-installed base. Wall-mounted bases require proper support from studs located in the wall or ceiling while corner-installed models often rely solely on the adhesive. Whichever installation type you choose, make sure that you have the necessary tools and supplies to complete it before starting.
Now that you know all of the factors to consider when selecting a shower base, let's look at some tips for proper installation. First and foremost, always read and follow the manufacturer's instructions carefully as they will provide the most accurate information on how to install your base correctly. Additionally, be sure to use appropriate sealant around all edges and joints of your new shower base in order to prevent water damage or leaks over time. Finally, take care when handling heavy components such as walls or floors – improper lifting can result in injury or damaged items.
There are many types of shower bases available in today's market, ranging from basic to luxurious styles. From the traditional rectangular shape to more modern designs such as round or square bases, you should have no problem finding the perfect one for your bathroom. Keep in mind that certain materials can increase the price of a base but if properly taken care of they will last longer and look great in your home.
As we've discussed, choosing and installing a shower base can be quite daunting. But by understanding all of the different factors that go into selecting the right size, shape, material, and installation type you'll be able to make an informed decision on which one is best suited for your needs. Additionally, following our tips and guidelines on proper installation will help ensure that your new base lasts for years to come! Once you have your base in place, all that's left to do is enjoy!
Considerations When Choosing a Shower Base 
Your shower base is one of the most important components in your shower. It keeps the water contained, provides stability while you shower, and helps elevate your bathroom design. There are many different types of bases to choose from, each with its own pros and cons. Choosing the right base for your home requires a little bit of research and planning.
Material
When choosing a shower base, you will want to consider the material used. There are many options available and each has its own benefits and drawbacks.
Acrylic: A cost-effective and moderately priced solution, acrylic bases offer durability, flex resistance, and a smooth finish. They are also easy to clean and resist stains and chipping.
Fiberglass: Another budget-friendly option, fiberglass bases are durable but are prone to stains and chipping. They also flex under the weight of users and can develop cracks over time, which may lead to leaks.
Cultured Stone: A more expensive and sophisticated choice, cultured stone bases are made from a mix of resin and real ground stone, such as marble or granite. They can be molded to fit the size of your shower and come in a variety of colors and textures.
Whether you choose to use tile or a pre-made shower base, it is important to ensure that the material chosen will meet all building regulations. If not, you could be liable for any repairs that might be needed down the line.
Style
A shower base can make or break a shower's overall appearance, so choosing the right one is essential. With a variety of options from tile to concrete, acrylic to metal, you can easily find a design that's in step with your style.
Stone – A wide range of stones is available for your shower pan, including marble, travertine, and quartzite. Besides being visually appealing, the stone is durable and antibacterial.
Ceramic – Unlike stone, ceramic is a bit more expensive and requires a little more maintenance, but it doesn't skimp on performance.
Steel – A reliable and sturdy option, steel shower bases are great for small bathrooms and minimalist bathrooms. They're also easy to install and are resistant to air, water, and dirt damage.
Recessed – For seamless integration, recessed shower bases are flush with the bathroom floor beyond the shower base. These are often more expensive and require professional installation.
Drain Location
Choosing the correct drain location is critical for a shower to function properly and prevent clogging. This may seem like an easy task, but it is not always the case. The first step is to find out where your joists are located. This will allow you to find the best possible location for a standard, low-cost shower base.
Another consideration is the type of material used to make the base. Acrylic, for example, is lightweight, affordable, and easy to install. However, it is prone to staining, discoloration, and scratches. Fiberglass is also an inexpensive option, but it is brittle and prone to cracking. It can also be impacted by cleaning products. Regardless of the material, it is important to ensure that the drain is in the proper position. This will avoid a number of problems. It will save you time and money in the long run. It will also make your bathroom look better! Just be sure to choose a high-quality product!
Threshold
The shower threshold is the front edge of your shower or shower pan that you step over to enter. It is one of the most important aspects of shower and pan installation, especially if your project is required to meet accessibility design codes or standards.
A beveled shower threshold offers a gradual slope to your entrance, which is great for walker or wheelchair users. This type of shower threshold is more traditional than a bull-nosed threshold and can be used for most residential projects. Another option is a curbless shower threshold, also known as a zero-threshold or barrier-free shower base. These are made from a solid surface, cultured granite, expanded polystyrene, acrylic, and fiberglass.
This style of shower base is typically more expensive than a low profile or a ramped shower pan. It is more expensive because it requires waterproofing the area where the base is set, as well as the bathroom floor. It is also more difficult to install than a ramped base.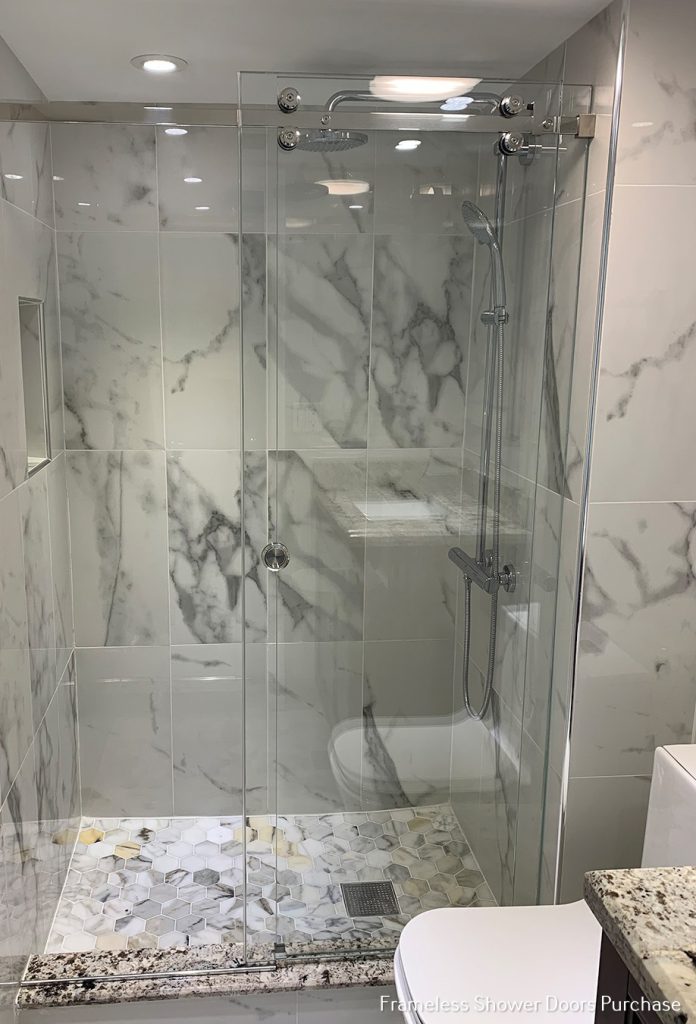 Tips for Installing a Shower Base 
Installing a shower base can be a challenging project. It is crucial to do it properly. The shower base is the floor of the shower and its main purpose is to direct water into the drain and protect the wall surfaces. The base should also be level.
Drainage
One of the most important things to consider when installing a shower base is drainage. A lack of proper drainage can lead to a number of problems, including mold and mildew. The first step is to prepare the subfloor of the shower by removing any existing tile and cleaning up the area. Next, install the drain flange into the pipe. This is usually done with solvent glue. Afterward, trowel some mortar around the drain opening to create a slope toward the drain and away from the walls. This is called a "pre-slope." After the pre-slope has dried, it's time to install a waterproof membrane liner over the floor and the bottom flange of the drain. This is a thin layer of waterproofing material that protects the drain and directs any water that seeps into the mortar bed toward it. Then, apply a bead of silicone caulk to the flange and insert the drain assembly into the opening. Set the rubber sealing washer and cardboard friction washer over the male threads on the upper body from below the shower base.
Installation
Whether you're installing a new shower or replacing an old one, a shower base is an important part of any bathroom renovation. It helps channel water into the drain, keeps the shower walls and floors from absorbing moisture, and protects the tile from warping or mildew.
It also keeps water from dripping through floorboards or into basements, which can lead to expensive damage. Therefore, it's vital to ensure that the shower base is properly installed so that you're getting the most value for your money. A shower base can be made from a variety of materials, including stone and metal. The best ones are durable and easy to clean, so it's important to choose the right one for your home and personal preferences.
Tile
A shower base is a pan that sits under the shower walls and is designed to drain water. It is typically performed and ready to install, making it a quick and easy solution for replacing a leaky shower or tub. A good shower base is made from a moisture-resistant material that protects the subfloor and walls from water penetration. This helps prevent mold and mildew growth, rot, and other common bathroom problems.
When installing a shower base, the first step is to spread the mortar evenly across the subfloor. This will ensure that the shower base is well anchored to the floor and won't move while you're laying tile. Once the mortar is set, you can lay the shower pan on top. Be sure to apply enough pressure on the pan to set it into the mortar. Otherwise, you may create pockets that will make the shower base less effective in protecting the floor and walls.
Maintenance and Care for Your Shower Base
With proper maintenance and care, your shower base will last for years. Taking the time to clean it regularly will prevent common stains like water spots, mildew, and calcium stains from developing. When cleaning, make sure you use a non-abrasive cleaner. Avoid harsh cleaners containing ammonia or bleach, as they may cause damage to the acrylic.
Clean Your Shower Base Weekly
If your shower is prone to soap scum and grime buildup, you need to clean it regularly. This can help prevent the growth of mold and mildew that can lead to a variety of health issues, including respiratory problems and allergies.
Weekly cleaning will also help keep your shower looking shiny and new. You can use a commercial cleaner or a homemade solution, but make sure to give the product time to work by applying it to your shower base and leaving it on for five to seven minutes before rinsing it off. To get rid of stubborn watermarks, try using a baking soda and hydrogen peroxide mixture. This will remove stains that are caused by hard water and other minerals.
Do a Quick Spot Test Before Applying New Cleaners
A quick spot test is a good way to make sure that the new cleaner you're considering is safe for your shower base. For example, if you're going to use an ammonia-based cleaner, it's always a good idea to do a quick spot test on a small area first to make sure that the ammonia doesn't damage your shower walls or flooring.
Another important thing to remember is that you should never use an acidic or ammonia-based cleaner on natural stone such as marble, limestone, and travertine. These chemicals can damage or scratch natural stone and also may cause discoloration or break down any sealants that have been applied to the surface. To get rid of soap scum and hard water stains, mix equal parts of white vinegar with warm water in a spray bottle. The acidic nature of the vinegar will help to dissolve mineral deposits, dirt, and grease. Let the solution sit for ten minutes or more, depending on how dirty your shower is.
Remove Any Personal Items From the Shower
To get the most out of a shower base cleaning, you need to remove any personal items from the area. This includes items like soap holders, towel racks, and drain covers.
You also want to take a close look at the shower head. Most of them can be disassembled to reveal the pipe and the flange that connects it to your shower pan. Taking out the shower head is no small feat, but it's an important step for keeping the water pressure high and the water temperature regulated.
One of the best ways to get the most out of your shower is with a high-quality shower curtain. This is a great way to show off your sense of style and prevent mold and mildew from growing inside the tub. The right fabric and design can make the difference between a boring bathroom and a showplace.
Allow the Base to Air-Dry
If you have mold or mildew growing on your shower base, it will need to be air-dried quickly. The water in your shower creates lots of wet surfaces and puddles, which can easily attract mold. To prevent this, take a few minutes to allow your shower base to air-dry after using it. This will help to get all of the moisture out and prevent mold from forming on your base.
It is also a good idea to air-dry your shower base when you are done cleaning it, especially if it has been in the same place for an extended period of time. This will help to speed up the drying process and ensure that it is free of stains when you are ready to use it again.
3591 NW 120th Ave, Coral Springs, FL 33065
(954) 378-9792